Shorthanded Norse Battle, Fall To Madison In OT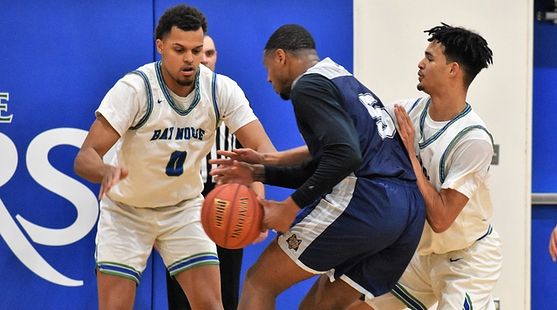 Click the thumbnails to see photos and vieos, and hear post-game comments from Coach Matt Johnson. Also hear Brevin Antilla's player spotlight interview

ESCANABA---The Bay College men's basketball team dropped its fourth straight game Friday night, but it wasn't for lack of trying. The Norse lineup, depleted by injuries, illness, and other issues, battled hard for 40 minutes, and then into overtime, before losing to the Madison College Wolves, 82-76.


"It's amazing how different you feel after certain losses," Norse Coach Matt Johnson said. "The last three were miserable feelings. It felt like everything was sinking and we were headed in the wrong direction. And then tonight, we show our resiliency and how tough these kids are. We battled back against a really good Madison team. We were a little bit shorthanded and we just didn't make enough plays when we needed to."

The Norse were beaten almost singlehandedly by big man Keith Hoffman, who also stepped out to drain four triples as part of his game-high 28 points. He also had eleven rebounds and a blocked shot. Hoffman's three-pointer from the top of the key in overtime, with Bay leading, 74-71, tied the game, and he had the go-ahead free throws after a drive moments later.

"Every time they needed a big shot, he hit one," Johnson said. "Literally every single time we made a run and then he came back and answered."

The Norse and Wolves played a tight first half, and they were even more hobbled when center Justin Nelson was ejected from the game for a flagrant foul. That meant Bay was down to eight players, and then Marcus Harris, Tre Burris, and Aloung Kang all got into foul trouble in the second half.


A Hoffman dunk on alley-oop pass gave Madison (10-4) its biggest lead of the game at 46-35, but the Norse dug deep. Jaylin Flaniken nailed a triple to bring the Norse to within 56-55, then moments later,. Flaniken had a steal and a lay-up to give Bay a 61-60 lead with 5:35 left.

Kang was tough inside for the Norse, and his basket with 2:25 left gave Bay a 68-66 lead.

Hoffman answered, and then Malcom Reed drove to the rim for a hoop to give Madison a 70-68 lead with 36.6 seconds left. After a time out, Burris drove to the hoop and tied the game at 70 with two of his career-high 16 points.

In overtime, Jahlani Thornton scored on a putback for two of his 12 points, and then Kang scored again to make it 74-71. But that's when Hoffman keyed a 9-0 run with that monster triple, and Burris eventually fouled out, leaving the Norse with just one guy on the bench.

"I'm proud of these guys tonight," Johnson said. "This was a heck of a lot of fun."
Besides Hoffman's 28 points, Madison (10-4) got 12 points from point guard Arrion Curothers and ten from Trevon Liggins.

Bay (11-5) got 19 points from Flaniken, 16 from Burris, 12 (and nine rebounds) from Thornton, and ten points (and five rebounds) from Kang.

The Norse host Braynt & Stratton College from Milwaukee on Saturday at 3:00, then travel to Ironwood to face Gogebic Community College on Wednesday at 8:00.