EMPTY TRIP: Norse Lose 2nd Game In Minnesota

Click the thumbnails to see photos and videos, and hear post-game comments from Coach Matt Johnson. Also click the AUDIO button to hear Lamar Grayson player spotlight interview.

COON RAPIDS, Minn.---The Bay College men's basketball team closed the first half of the season Sunday night with a 75-62 loss to the Anoka-Ramsey Golden Rams in Minnesota, a loss that Coach Matt Johnson called the most disappointing of the season.

"They are not a better team than us," Johnson said. "But they outplayed us, they outcoached us, they won every phase of the game. It was embarrassing. We didn't shoot. We didn't defend. We didn't rebound. I really can't find any positives, to be honest with you."


The game was close most of the way, with neither team taking a lead of bigger than six points for the first 25 minutes of the contest. Bay trailed just 48-47 midway through the second half before the roof caved in. The Golden Rams scored 13 straight points to go up, 61-47, promoting a frustrated Johnson to put four bench players on the court for the final 7:01 of the game.

"I wasn't trying to prove a point," Johnson said. "I was trying to find a way to win a basketball game."

That group of Davin Hill, Brevin Antilla, Mayson Brown, and Jahlani Thornton joined local Twin Cities boy Dewayne Thompson on the court for those final minutes. They outscored the Rams, 15-14, but the damage was done.

Thompson had an exciting start to the game, scoring eleven points as his friends and family howled their approval from the stands. Thompson got too excited once, getting called for a technical foul, but he led the Norse with 19 points.

Escanaba Eskymo graduate Carter Hudson got off to a great start as well, draining three triples and scoring a putback basket. He finished with those eleven points, and he pulled down a team-high eight rebounds.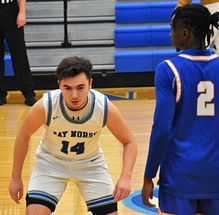 His third triple, along with one from Brinley native Marcus Harris, and an inside basket by West Iron County's Justin Nelson, had the Norse in a 29-29 tie.

But Isaiah Woodstock came off the bench to nail two triples for the Golden Rams, and Ontario Chapman scored three baskets, including an "and-one" bucket.

Anoka led, 34-31, at the half. Their 13-0 run in the second half was keyed by two Elijah Mead triples and a pair of baskets by Devin Wade-Henderson.

Woodstock and Wade-Henderson both had 13 points for the Golden Rams, while Chapman and Mead both scored eleven points.

The Norse were outrebounded, 39-36, and Bay committed 19 turnovers. The Norse shot 8-of-11 from the foul line and 8-of-24 from three.

Bay College finished the first half with an 11-4 record, but have lost three of their last five games. They will be off until after the new year, when they will play their 12th road game in 16 starts, and it will be back in the Twin Cities.

The Norse will play the Dakota County Technical College Blue Knights in the first of four regional seeding games. That game is scheduled for January 5th.