6th-Ranked RCTC Gets Better Of Norse Men Again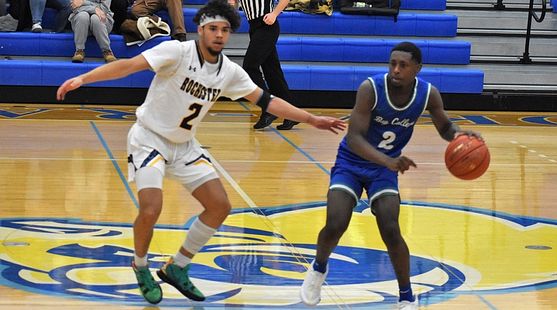 Click the thumbnails to see photos and videos, listen to Aloung Kang's player spotlight interview, and hear post-game comments from Coach Matt Johnson.

COON RAPIDS, Minn.---The Bay College Norse men's basketball team dug a hole that they could not get out of Saturday, falling behind the sixth-ranked team in the country by 22 points before ultimately losing to the Rochester Technical and Community College Yellow Jackets, 74-60, in Minnesota.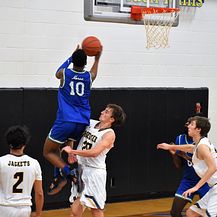 The Norse battled back to within eight points with three minutes left on the clock after Marcus Harris completed a 15-1 run with a triple and long two-point jump shot, but Bay ran out of time down the stretch and they fell to 11-3 on the season.

"I think it was a toughness thing," Norse Coach Matt Johnson said. "This has kind of been our Achilles heel in our three losses. They've all been very similar to this. The teams (Rochester, Milwaukee Tech, Macomb) all play in a similar way. We don't respond well to it, and we've got to figure that out. Because the good teams we play down the stretch play the exact same way."

"Our kids fought, we played hard, I don't want to sound negative about the effort. But against a good team, you just can't dig yourself that deep of a hole. We've got to be tougher. That's the bottom line."

The game was tied at 15-15 midway through the first half after Justin Nelson banked home a jump shot off the bench. But RCTC went on a 14-2 run to open up a 29-17 lead, and the Norse never got closer than seven points the rest of the day.

The Yellow Jackets (9-1, ranked 6th nationally in NJCAA Division Three) eventually took its biggest lead of the game at 62-40 with 13:00 left in the game. But a few of Bay's Minnesota boys, playing in front of family and friends just minutes from their hometowns, helped the Norse make a game of it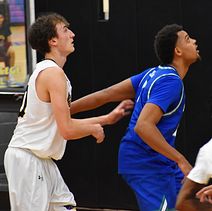 First, it was Aloung Kang (AK) with a highlight reel one-handed slam dunk on a diagonal breakaway, and then a steal led to a Lamar Grayson lay-up to complete a seven-point run.

Then Harris drained a triple to cut it to 63-50 with 4:47 left, and another Twin Cities boy, Dewayne Thompson, ran the floor nicely and converted on a driving lay-up to make it a 63-53 game.

A long jumper in front of the Norse bench by Harris cut it to 63-55, but the dagger came when Bay played a strong 30 seconds of defense but Keivonte Watts drained a triple as the shot clock expired to rebuild a 68-55 RCTC lead.

The Yellow Jackets, who beat the Norse in last winter's regional championship game on a one-point nailbiter, led nearly from wire-to-wire this time around. They have many of the pieces of last year's title team back, although they have returned to NJCAA Division Three after playing with the Norse in D-2 last year due to the coronavirus pandemic causing most D-3 schools to cancel their seasons.

Devyn Frye led all scorers with 25 points on 10-of-16 shooting from the floor, and Watts contributed 21 points and six rebounds, along with four three-point baskets.


Grayson led the Norse with 18 points, while Thompson added 15 points. Thompson also played well defensively, credited with eight steals.

Bay, however, was just 12-of-21 from the free throw line (57%), committed 18 turnovers, and were outrebounded 40-28.

"We didn't finish through contact, we missed a ton of lay-ups, and we didn't make free throws even though we got there a bunch," Johnson said. "The 50/50 balls, I bet you they got 90% of them. And against a good team like this, you just really need to make sure that every possession is a priority. Today, we just didn't do that enough."

Bay College (11-3) will close out the first half of the season Sunday evening against the host team of the tournament, Anoka-Ramsey. Tip-off is set for 5:00 ET. It will be broadcast on Maverick 106.3 FM and radioresultsnetwork.com.