Norse Cruise Past Harper; Sunday Game Cancelled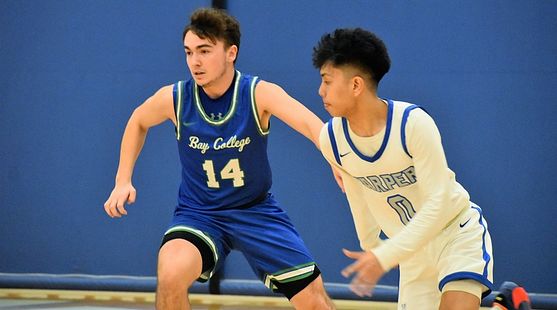 This story was written by Bay College SID Mike Pankow. Click the thumbnails to see pictures and videos, and hear post-game comments from Jahlani Thornton and Coach Matt Johnson. Also click to hear Parker Maki's player spotlight interview.

PALANTINE, IL – The Bay College Men's Basketball Team (11-2) came out hot and took a big lead early. They would never surrender the lead, cruising to a 66-41 win over the Harper College Hawks (0-12) on Saturday evening.

The Norse received some bad news as their game on Sunday has been cancelled because of COVID protocols and concerns with Joliet Community College.

They will now have to wait a week to get back on the court.

Next weekend they will participate in the Anoka-Ramsey Community College Holiday Classic and will square off with Rochester Community College on Saturday afternoon before facing the host team on Sunday.

Bay rattled off 15 points before Harper cracked the scoreboard. The Hawks would not get their first field goal until the 9:36 mark in the first half. The three cut the lead to 15-4 at that point, but the damage had been done.

That would be as close as Harper would get as the Norse continued to flex their muscle throughout. Bay forced the Hawks into 13 turnovers in the first half and extended to a 31-17 lead at the half.

The Norse continued their dominance in the second half with some strong shooting. They connected on 45.7% of their shots and would extend to 26-point lead midway through the second half. Bay was excellent inside and would amass 44 points in the paint.

Harper did shoot the ball well from deep, hitting seven of 14 attempts from three but 26 turnovers took its toll. The Norse would hoist up 21 more attempts from the field and were good on 42.4% of their shots.

Neither team helped themselves from the charity stripe. Bay was just five of 17 from free throw, while the Hawks hit on just eight of 27 shots.

Diang Gatluak (SO, Sioux Falls, SD) paced the Norse with 13 points and six rebounds. Jahlani Thornton (FR, Detroit, MI) added twelve points and five rebounds off the bench while Jaylen Flaniken (FR, Troy, MI) scored ten points and grabbed seven rebounds.

Sean Beckman led the Hawks with ten points and seven rebounds. David Thompson also grabbed seven boards.