Hudson Helps Norse Rally Past Lumberjacks, 72-66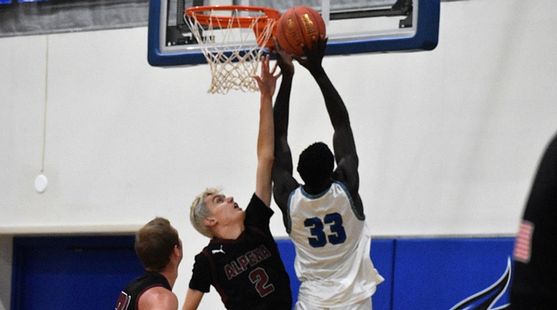 Click the thumbnails to see photos and videos, hear post-game comments from Coach Matt Johnson, and hear Carter Hudson's halftime interview.

ESCANABA---The Bay College Norse men's basketball team rallied from ten points down in the second half to beat the Alpena Community College Lumberjacks, 72-66, Wednesday night in Escanaba. It was the final home game of the 2021 calendar year for the Norse.


Escanaba graduate Carter Hudson scored seven straight points in the second half to give the Norse a lead they would not lose.

Hudson's three-pointer brought the Norse to within 59-58 with 6:15 left, then after Alpena's Steve Nicolas scored at the other end, Hudson took a dish from Lamar Grayson under the basket for two, then the next time down the court, Hudson was fouled and knocked down two free throws to give Bay a 62-61 lead.

Grayson's driving layup put the Norse up, 66-63, and then after a defensive stop, Grayson dished to Diang Gatluak for the slam dunk with 2:09 left to make it 68-63. Gatluak later scored the "icing on the cake" transition bucket, and was fouled, to put the game out of reach at 70-63.

Gatluak had a double-double with 16 points and ten rebounds.

The Norse led throughout the first half, leading by as many as nine at one point before Nick Freel came off the bench to nail three triples for the Lumberjacks. Bay led, 31-26, at halftime.

Alpena dominated the first part of the second half, with Nicolas dunking and 6-6 center Chris DeRocher spinning and scoring inside to complete a 16-4 run, putting the Lumberjacks up, 42-35.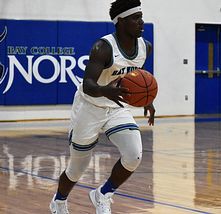 Their biggest lead of the game came at 56-46 before Grayson drained a triple, cutting the gap to 56-52 with 8:15 left. Moments later, Hudson went on his seven-point run to turn the game.

Jaylen Flaniken had 14 points and added eight rebounds. And he had three steals on defense. Grayson finished with 13 points in his first game back from a two-week injury.

Alpena (2-6) got 16 points from Quay Humphries, while DeRocher added 14 points, five rebounds, and five assists. Nicolas had 13 points and Freel added 11.

Bay (10-2) will be back on the road this weekend with a pair of games in Chicago. They'll play Harper College on Saturday and Joliet Junior College on Sunday.