MOTOR CITY RALLY: Flaniken, Norse Top Raiders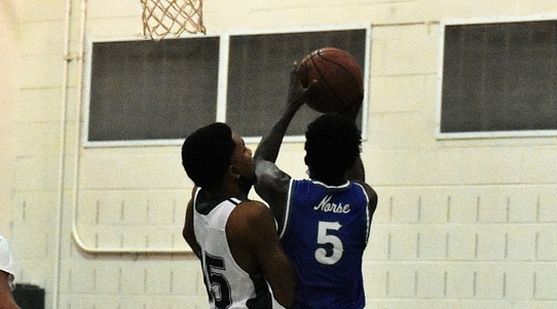 Click the thumbnails to see photos and videos, hear post-game comments from Jaylen Flaniken, Marcus Harris, and Coach Matt Johnson. Also click to listen to Detroit-native Jahlani Thornton's player spotlight interview.

BLOOMFIELD HILLS, Mich.---The Bay College Norse men's basketball team rallied from a 15-point second half deficit to beat the Oakland Community College Raiders, 65-59, Saturday in suburban Detroit. Jaylen Flaniken scored 16 points in front of his Detroit family and friends to help the Norse get the win.

"That was a good 'Dub' for sure," Flaniken said. "We talked in the locker room that most of our errors came on the defensive end, and we needed to get energized also because warm-ups were kind of sluggish. I love my family, man. Them coming out and supporting gave me a lot of energy in the second half. I couldn't lose in front of my family again this weekend. I just went out there and did my best."


Oakland, coached by former University of Michigan standout Antoine Joubert, went on an 11-0 run in the first half after Bay had taken an early 12-7 lead on baskets by Diang Gatulak and Joc Overstreet. The Raiders led, 18-12, and held a 29-21 lead at halftime

The hole got deeper early in the second half when Kendall Perkins ended a Raider run with a soft dunk after a Norse turonver at half court. That put Oakland ahead, 40-25.

Bay started to chip away at the deficit, cutting it to 47-42 with 10:50 left on a driving lay-up by Isaiah Kennedy. The run continued with an Aloung Kang basket in the paint, and then third-year player Marcus Harris stepped up with some big minutes off the bench.

Harris dove for a loose ball and literally slid 20 feet into the back court, and after the Norse scooped up the loose ball, Harris hustled up court to take a pass for a three-point shot. He missed the triple, but hustled back the other way to take the offensive foul charge call, ending up on all fours (again) under the basket.

The Norse then tied the game at 47 on a short jumper by Gatulak. Then the next trip up the court, Harris drained the three-point basket to give Bay a 50-47 lead with 6:34 left.

Moments later, Harris and Overstreet combined on a half-court trap that ended with a big over-and-back turnover, whcih eventually ended with Kang basket on the ensuing posession.

"Well, I'll have a bruise on my head, especially, and a chunk of hair I lost, and I got stepped on," Harris laughed. "Just playing hard, you know."


Harris was not happy with his performance behind the long arch in Friday's loss at Macomb.

"It was on its death bed," Harris said. "It was resurrected today. I didn't really change anything. I've just got to keep shooting. I've been in a slump these last couple of weeks, but all you can do is shoot your way out of it."

Bay was clinging to a 56-55 lead when Flaniken took a pass down low from Gatulak and scored the baseline lay-up, and was fouled. He converted the "and-one" to make it 59-55 with 2:51 left, much to the delight of his Detroit friends and family who were howling their approval.

Bay's defense was strong down the stretch, forcing the Raiders into jump shots that would not fall. The Norse outscored Oakland, 9-2, down the stretch before the home team made an uncontested basket at the buzzer to make it a 65-59 final.

"It was the defensive end, and the 'effort plays' that got us going, there's no question about that," Norse Head Coach Matt Johnson said. "We had some kids step up, Marcus (Harris) being one of them. AK did a heck of a job for us tonight. We stepped up the defensive pressure and they made a couple of mistakes, and then our confidence level grew."

Flaniken finished with 16 points and four rebounds, while Harris contributed 11 points (plus strong defense). Gatluak had a double-double, with 10 points and 11 rebounds.

Bay College improved to 9-2 on the season while Oakland fell to 2-2. The Norse host Alpena Community College Wednesday night at 7:00 before they head to Illinois for a pair of games in the Chicagoland next Saturday and Sunday.