Rough Start Costs Norse In Loss At Macomb, 70-59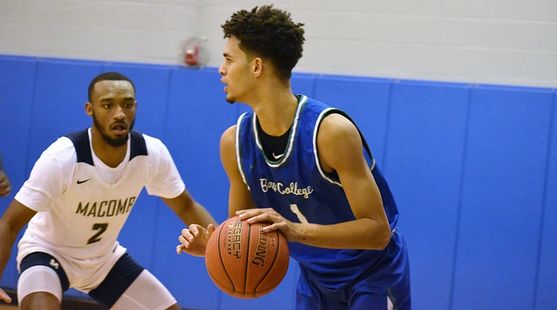 Click the thumbnails to see photos and videos. Also click the AUDIO button to hear Jaylen Flaniken's player spotlight ibterview

WARREN, Mich.---The Bay College Norse men's basketball team fell behind by ten points in the opening minutes of the game and could not get much closer, losing to the Macomb Community College Monarchs, 70-59, Friday night in the Detroit suburb of Warren.

The Monarchs treated themselves to seven slam dunks as they built a 21-point lead and held off a late Norse comeback attempt.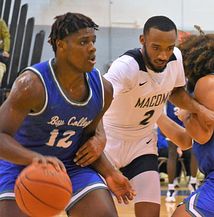 The Norse struggled for consistency all evening. They fell behind, 12-2, before cutting the gap to 20-13 on a slam dunk by Justin Nelson. From there, the Monarchs expanded their lead to 39-24 at halftime, and then scored the first six points of the second half to balloon the lead to 45-24.

Bay went on a 11-0 run to get back into the game, with Diang Gatulak coming from his injury to get an "and-one" basket, and Joc Overstreet came off the bench to drain a triple to bring the Norse to within 45-35.

Overstreet hit two more triples to keep the Norse relatively close at 60-49 with 6:53 to play, but never could get over the hump. Jaylen Flaniken, playing a few miles from his Detroit home, thrilled his large cheering section with ten second half points, including a pair of free throws that brought Bay to within 66-57 with exactly two minutes left to play.

The Norse got a missed free throw on the front end of a one-and-one, and had plenty of time to cut into the nine-point deficit, but threw the ball away seconds later. The Monarchs clinched the game from the foul line, along with the seventh and final of their slam dunks.


Macomb (8-1) had all five starters score in double figures, in fact, the Monarchs only had two points off the bench. They blocked nine Bay shot attempts.

John Ukomadu led Macomb with 18 points, four blocked shots, and three slam dunks. Jaylen Daugherty, who had four of the slam dunks, finished with ten points and ten rebounds.

Jioavnni Miles had 14 points and six assists, while Elijah Belle and Tariq Holmes both had 13 points. Belle contributed eight rebounds.

Bay (8-2) had 14 points and eight rebounds from Gatulak, and 14 points and seven boards from Flaniken.
Overstreet scored eleven points off the bench.

The Norse make the short trip to Oakland Community College on Saturday to face the team coached by former University of Michigan star Antoine Joubert. The tip-off is 3:00 and the game will be broadcast on Maverick 106.3 and www.radioresultsnetwork.com.