RAINING THREES: Bay Men Outshoot Leech Lake

Click the thumbnails to see photos and videos, and click the AUDIO buttons to hear post-game comments from Jaylen Flaniken and Coach Matt Johnson. Also listen to Davin Hill's player spotlight interview.

IRONWOOD---The Bay College Norse basketball team, with nearly half of its roster sidelined by various injuries, overcame a three-point shooting barrage from the Leech Lake (Minn.) Tribal Lakers and posted a 91-75 win Sunday at the Lindwuist Classic in Ironwood.'

Jalyen Flaniken had a career-high 32 points and 13 rebounds, knocking down six triples in the process, as the Norse improved to 8-1 on the season.


The Norse, already playing without injured starters Lamar Grayson, Ashton Janke, and Diang Gatulak, as well as top subs Aloung Kang and Joc Overstreet, were dealt another blow Sunday when they suffered even more injuries.

Center Carter Hudson took an elbow to the side early in the first half and did not return after playing just under seven minutes. And that happened after fill-in forward Tre Burris, who had scored double figures the night before, suffered an ankle injury just 1:37 into the game.

Add to all of that the fact that Keagan Monroe has been out all season, Norse Coach Matt Johnson had just eleven of his original 19 players healthy and ready to go.

It was enough, though, as the Norse fended off the shoot-from-the-hip Lakers.

Leech Lake, coached by former Minnesota high school standout, and Bemidji State University player Brady Fairbanks, hoisted up 34 three-point shots. They made 13 of those shots, and the 34 attempts was actually six fewer than the Lakers threw up the night before in a win against Gogebic Community College.

The Norse were in a battle for much of the night against Leech Lake, leading 44-43 at halftime after Flaniken put down 21 of his points to almost singleheandly keep Bay in the game.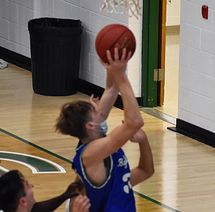 Leech Lake took a 48-47 lead early in the second half on a triple by Jarell Jacobs, who led the Lakers with 31 points before fouling out with exactly 4:00 left in the game.

Bay finally got some separation on the scoreboard with a 13-5 spurt, capped off by a Justin Nelson basket that put the Norse ahead, 60-53. Isaiah Kennedy also had a bukcet and a triple during that run, and Kennedy keyed another spurt with a putback. That basket, along with two more inside by Flaniken, helped the Norse grab a 66-59.

Then, Davin Hill came off the bench to drain a three-pointer to make it a 73-60 game.

The Lakers did not give up, though, as Antoniio Brown nailed back-to-back three's to bring Leech Lake to within 73-66 with eight minutes still to play.

That's when Bay's Brown, Mayson Brown (no relation) came off the bench to sink a triple to stop the Laker momentum at 76-66. The dagger was a three by Kennedy, a steal, and a pass under the basket to a streaking Flaniken for his final two points out of his career-high 32.

That made it 86-73, and the Norse finished the run when third-year sophomore Marcus Harris made his fourth triple of the game to make it 91-73. Harris also had a blocked shot, dished out four assists, and ended up with 14 points to back up Flaniken's 32.

Kennedy added 15 points and Dewayne Thompson, a guard, had a double-double with 12 points and 11 rebounds. Nelson had eight points and ten rebounds. Bay College outrebounded the smaller Leech Lake team, 61-30. Bay had 23 offensive rebounds to seven for the Lakers.

Leech Lake, besides Jacobs' 31 points, got 15 from Jamie Cook and 12 from Arnold Kingbird.

Bay will be on the road again next weekend, with two tough games in Metro Deroit. The Norse will take on Macomb Community College Friday night and Oakland Community College Saturday afternoon. Both games will be broadcast on Maverick 106.3 FM and on-line at www.radioresultsnetwork.com.