CRUISE CONTROL: Shorthanded Norse Get Victory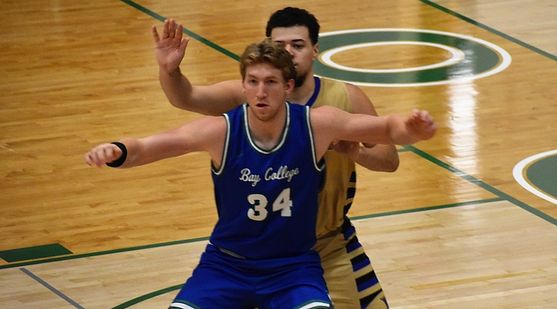 Click the thumbnails to see photos and videos, hear post-game comments from Carter Hudson and Coach Matt Johnson. Also click to hear Justin Nelson'splayer spotlight interview.

IRONWOOD---The Bay College Norse men's basketball team cruised past the Vermillion (Minn.) College Ironmen, 97-75, Saturday at the Lindquist Classic on the campus of Gogebic Community College. The Norse won despite having several key players sit out due to injuries.


Bay had four players finish in double figures, led by Jaylen Flaniken with 16 points on 7-of-9 shooting from the floor, and Carter Hudson had 14 points on 6-of-7 field goal shooting.

Dewayne Thompson also had 14 points on 6-of-10 shooting, and Tre Burris had 12 points on 5-of-9 shooting.

The Norse had numerous players of their 19-man roster not suit up due to injeries.

That includes starters Ashton Janke, Diang Gatlauk, and Lamar Grayson. Also injured was top reserve Aloung Kang, and Joc Overstreet was gone to attend a funeral. Keegan Monroe has been out all season with a torn labrum and is awaiting surgery.

So, of the 19 men on the roster, the Norse had 12 men available.

But everyboy chipped in to the victory after the Ironmen, who also had a short bench, stayed close for the first ten minutes of the game. They trailed just 19-18 before the Norse went on a 19-4 run to open up a 38-22 lead. Hudson had two baskets in that span, Thompson had a two and a triple, and a triple by Burris capped off the big run.

The Norse led, 43-30, at halftime, and then opened the second half on a 23-4 run to build a 66-34 lead. Burris and Thompson both drained three's in that span, and Justin Nelson had a pair of baskets as part of his eight-point second half. Nelson also had a dunk called off on a traveling call, but the Norse were on cruise control to the finiah line.

Mason Bennett led Vermillion (0-5) with 16 points. Three other players: Ronald Ducros, AJ Taylor, and Tyrese Rogers all added ten points.

The Norse outrebounded the Ironmen, 45-25. Both teams made ten triples.

Bay improved to 7-1 on the season and will face Leech Lake (Minn.) Tribal College on Sunday. The Lakers lost a tight one to Gogebic Community College, 68-63, late Saturday. Leech Lake threw up 40 three-point baskets in that loss. Game time Sunday is 1:00 ET.