Norse Come Up Short Against Ninth-Ranked MATC

Click the thumbnails to hear Tre Burris player spotlight interview, and post-game comments from Norse Coach Matt Johnson.

ESCANABA---The Bay College Norse men's basketball team had its undefeated season come to an end Saturday as the ninth-ranked Milwaukee Tech Stormers went on a 14-0 run early and cruised to a 91-69 win at the Bay College Gym.

After Dewayne Thompson gave the Norse a 5-2 lead, the Stromers, regarded as one of the powerhouses in NJCAA basketball nationally, went on a 14-0 run to take controlof the game with a 16-5 lead. The Norse would close the deficit to six points at one point, but MATC had the answer, using its high-tempo offense that included two highight-reel slam dunks.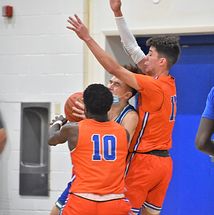 "They are exactly what we thought they were going to be," Norse Coach Matt Johnson said. "It's just a very good basketball team. We didn't make enough plays or do enough things. We gave them too many opportunities, and they're too good. They took advantage."

The Stormers held leads of between 11 and 16 points for most of the second half after leading 43-30 at the break. A Tre Burris basket brought the Norse to within 62-51 midwayy through the second half but MATC put the game away with a 10-0 run to go up by 21.

"They're very aggressive and they're incredibly athletic," Johnson said. "And they put a ton of pressure on you. So they create extra posessions for themselves, and get you to play out of your comfort zone at both ends of the floor. They do it just as much on offense as much as they do on defense. They're always in attack mode."

The Norse were playing shorthanded, without Ashton Janke, Aloung Kang, and Diang Gataluk in the line-up.

"Three guys that are probably in our top six or seven guys," Johnson said. "And Lamar (Grayson) was hurt and didn't play a whole lot. That's not an excuse. I've said since the beginning that our strength is in our numbers and in our depth. And we did have some guys step up and do some nice things as well."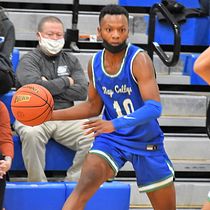 MATC shot 51.6% from the floor (33 of 64) and drained seven of 20 three point attempts. They forced 17 Bay turnovers with their defensive pressure. The Norse shot 41.1% from the floor (23-for-56) but made 19-of-24 from the foul line and had a slight rebounding advantage (38-35).

The Stormers (7-1) were led in scoring by Mason Johnson with 21 points. Jalen Houston added 18, and Karl Blanton, Jr., came off the bench to score 16 points. Bansi King added 12.

Bay was led by Dewayne Thompson's 15 points and four assists. Jaylen Flaniken had 10 points and four rebonds. Isaiah Kennedy came off the bench to contribute 11 points and six rebounds, and Burris had seeven rebounds before fouling out late in the game.

The Norse (6-1) had their six-game winning streak snapped and they will try to start a new one at the Lindquist Classic in Ironwood next weekend. Bay will take on Vermillion (Minn.) College on Saturday at 4:00 ET and battle Leech Lake (Minn.) Tribal College Sunday at 1:00 ET. Both games will be broadcast on Maverick 106.3 and radioresultsnetwork.com.