Bay College Grinds Past Mesabi In All-Norse Battle

Click the thumbnails to see photos and videos, and hear post-game comments from Dewayne Thompson and Coach Matt Johnson. Also hear Gavin Gothard's player spotliht interview.

VIRGINIA, Minn.---The Bay College Norse men's basketball team shook off a sluggish first half Saturday to stay undefeated on the season, posting a tough 74-67 win over Mesabi (Minn.) Community College in the Battle of the Norse in Minnesota.

Bay turned the ball over eleven times in the first half and struggled to get into a rhythm on offense, trailing 25-17 midway through the first half. But Dewayne Thompson had an "and-one" basket to help the Norse close to within 29-28 at halftime.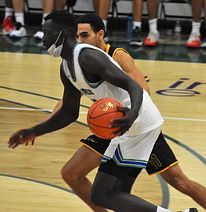 Mesabi opened the second half on a 7-2 spurt off another Bay turnover to build a 36-30 lead before the Norse offense woke up. Bay went on a 9-0 run to grab a 39-36 lead, and it was nip-and-tuck for the first part of the second half.

Bay was clinging to a 52-51 lead when Aloung Kang scored back-to-back baskets to open up a five point lead. Then after a Mesabi basket, Joc Overstreet nailed a triple to give Bay a 59-53 lead.

The Norse bench came through with Marcus Harris draining a triple to make it 64-57 with 5:29 to play. They opened up more separation when Diang Gatlauk banked in a long jumper at the end of the shot clock, and Thompson knocked down a triple after a long possession as well, making it a 69-57 game.

A couple of fast break baskets by Nataj Sanders brought Mesabi to within 69-63 with 1:31 to play, but Lamar Grayson scored two of his game-high 23 points with 1:12 to play, opening up a three-possession lead.

The Norse played keep-away from the Mesbai Norse in the final minute with Grayson making four free throws and Thompson knocking down two. When the final buzzer went off, a group of Bay College fans, there to see the five Bay platers from the State of Minnesota, ran onto the court to celebrate.


Mesabi hurt themselves by missing all 12 of the free throws they took. Bay was 11-of-18from the foul line.

Grayson led Bay with 23 points on 9-of-13 shooting from the floor. Thompson added 12 points on 4-of-6 shooting, and Nelson, who had a triple to go along with his dunk, finished with nine points and five rebounds.

Gataluk was held to six points, but he was dominant on the glass, credited with 13 rebounds to lead both teams. Kang added eight points and eight rebounds.

Sanders led Mesabi with 19 points, while Spencer had 14 points and nine boards as part of his team's fast-break transition offense.

Mohammed Mohhamud added 12 points, and Mustafa Salad added ten rebounds.

Bay College improved to 5-0 on the season and will host Harper (Ill.) College next Friday night at 8:00, and Milwaukee (Wis.) Area Technical College next Saturday afternoon at 4:00.