129-30: Bay College Dominates Lake Superior JV's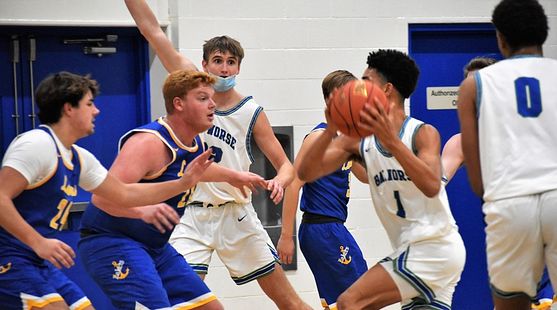 Click the thumbnails to see photos and videos from the game. Also click the AUDIO buttons to hear post-game comments from Aloung Kang and Coach Matt Johnson.

ESCANABA---The Bay College Norse men's basketball team tuned up for this weekend's trip to Minnesota by posting an easy 129-30 win over the Lake Superior State University junior varsity team Monday night in Escanaba.

The Norse led from wire-to-wire, setting school records for points and margin of victory. All 18 Norse players played at least eight minutes, and 17 of them scored baskets in the game.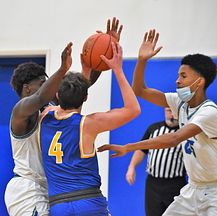 "We got everybody in," Norse Coach Matt Johnson said. "That was our objective. We wanted to make sure that everybody had a chance to play, and we spread the minutes out. We wanted to save some legs coming back after this weekend (long road trip downstate) and knowing we've got two on the road this coming weekend. That was priority number one."

Five players scored in double figures, led by Lamar Grayson with 17 points in only nine minutes of playing time.

Isiah Kennedy had 16 points, also in nine minutes on the floor.

Justin Nelson had 12 points on 5-of-5 shooting. Aloung Kang had 11 points, including two dunks. Brevin Antilla had ten points, including two triples. Carter Hudson had eight points and seven rebounds.

Nobody played more than 15 minutes in the 40-minute game.

"It was fun because everybody got to get into the game," said Kang, who transferred to Bay from Iowa Lakes College, which made the NJCAA national tournament last year. "Shout out to the 'blue team' (third stringers). Everybody got a chance to play and it was a lot of fun. Mostly what I'm bringing is that competitiveness in practice. That's rhe culture that I want to be a part of."


Grayson scored 13 of his points in the early part of the game, giving the Norse a 20-7 lead. Another 10-2 spurt, with Kang, Nelson, and Kennedy all scoring made it 30-9.

Bay led at halftime, 65-17, and things did not improve for LSSU in the second half.

Bay put up 80 shots, making 52 of them (65% shooting from the floor). They made 10-of-23 triples, and sank 15 of 18 foul shots. The Norse outrebounded the Lakers, 52-17.

The Lakers, with just eight players on the roster, got eight points from Jack Izzard and six apiece from Jeremy Misiak and Nielsen O'Brien.

The Norse improved to 3-0 on the season and make the long trip to northern Minnesota this weekend to play games at Hibbing Community College, and at Mesabi College. The game Friday night in Hibbing will be a homecoming for Johnson, who coached for eight seasons at Hibbing before coming home to the Upper Peninsula.

"It's going to be different, I don't know what to think,to be honest," Johnson said. "It's a special place to me. It was my first head coaching job and they took a chance on me when I was young and had no idea what the heck I was doing. I have a lot of friends there still, and was proud of where the program was when I left. I'm excited to get back."

Game time Friday night is 8:30 ET/7:30 CT. It will be broadcast live on Maverick 106.3 FM.