Rapid River Beats Engadine In Districts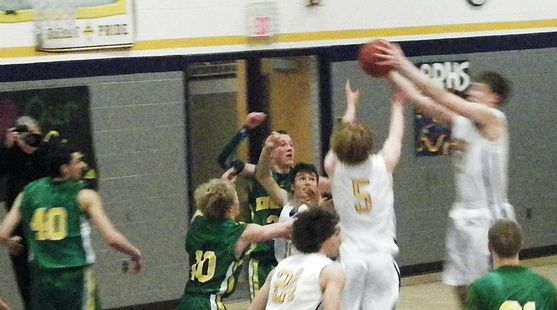 The Rapid River High School boys basketball team opened the post-season Monday with a workmanlike 68-50 win over the Engadine Eagles.

Sophomore Jake Pearson scored 26 points to lead the way for the Rockets (12-9). Senior Connor Frisch led Engadine (3-18) with 18 points, including four three's, all in the second half.

The two teams were tied at 17 in the second quarter when the Rockets went on a 9-0 run to take control. The lead grew to 33-22 at the half, and 53-37 in the fourth quarter. Frisch made three three's to bring Engadine to within 54-45, but the Rockets put it away as Pearson and Riley Pajnick scored three-point plays.

Darell Kohli had 11 points and Travis Froberg chipped in eight off the bench.

"I just tried to get out in transition," Pearson said. "That's where I got most of my points. The guards did a great job, Darrell (Kohli) always does a good job, along with Zack (Pavlat) and Bergie (Jake Berglund). Engadine's a tough team."

"We had a lead, but never had that comfortable lead," Rockets Coach Craig Carter said. "We'd get up by 12 or 14, then they'd come back to within nine or eight. I knew that this was a game that we could not take lightly."