ONE UP, ONE DOWN: Redmen Blast Puffer, 38-0

MARQUETTE---The Marquette High School football team opened the MHSAA Playoffs on Saturday with a 38-0 win over Muskegon Reeths Puffer. The Redmen got two touchdown runs from Desmond Mullen and quarterback Austin Ridl had two TD throws and one short TD run.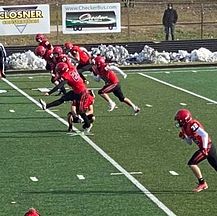 Mullen's 49-yard touchdown run in the first quarter put the Redmen on the board, then in the second quarter, Ridl tossed a 15-yard touchdown pass to Ty Lotterman.

Mullen scored on a three-yard run to make it 18-0, then the Redmen got a blocked punt by Wyatt Kuhlman to take a 24-0 lead. Before halftime, Ridl threw a short touchdown pass to David Eberhard and it was a 31-0 Marquette lead at halftime.

Ridl's four-yard touchdown run in the second half was the only score.

Marquette (6-1) travels to Mt. Pleasant in the second round next weekend. The Oilers (6-1) did not play this weekend, as Gaylord had to forfeit due to COVID-19.

Reeths Puffer finishes its season 2-5.