SURVIVE & ADVANCE: Rockets Rally; Beat 'Dogs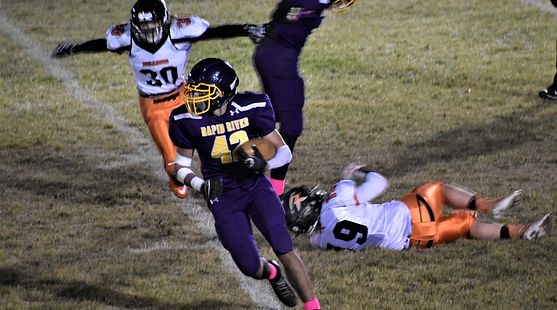 Click the thumbnails in the ARTICLE HIGHLIGHTS box above for videos and photos, and to listen to interviews with Lenaker, Lundquist, and Ostrenga. Also, hear Parker Dausey's halftime interview.

RAPID RIVER---Bryce Lundquist threw three touchdown passes to Max Lenaker, including a 76-yarder on fourth down late in the game, to help the Rapid River Rockets come back for a 30-26 win over the Rudyard Bulldogs in the MHSAA playoff opener on Thursday.

"That was a tough football team," Rapid River Coach Steve Ostrenga said. "They have a nice scheme. They double down on your linebacker. They kick your end out, and they've got guys who can do it. They hit us with some plays that we just didn't cover well."


The Rockets trailed, 26-16, in the fourth quarter, before they made big play after big play, on both sides of the ball, to earn the victory. On the first drive of the fourth quarter, the Rockets faced 3rd-and-18 when Lundquist threw a short pass to Mason Kudlick. Kudlick fought his way to within a yard of the first down, and then he got the first down on the next play.

Later in the drive, the Rockets faced 4th-and-6 at the Rudyard 25 when Ludquist passed to Ben Lenaker for ten yards. Then on 3rd-and-10, Lundquist tossed a 15-yard touchdown pass to a wide-open Max Lenaker. Then Lundquist passed to Kudlick for the two-point conversion.

The Bulldogs, however, returned the ensuing kickoff to the 37-yard-line, then quarterback EJ Suggitt found freshman resceiver Cam Peterson for 23 yards and a first down. The Bulldogs appeared to have a big running play when Peterson broke through the line, but he was stripped from behind by Max Lenaker and Kudlick recovered the fumble.

Rapid River started at its own 20 yard-line, and yhree runs set up 4th-and-4 at the Rocket 26 with five minutes left. Ostrenga called time out.

"We asked the guys: 'do you want to punt'," said Ostrenga, who's in his 30th year at Rapid River. "They said no. And so we went for it. Max did a great job of getting open on that one. You know, I trust the captains. I know the conventional wisdom says you punt, but maybe we don't get the ball back (after a punt). So, it worked out this time."


The decision worked as Lundquist found Max Lenaker in the seam up the middle of the field about 15 yards up field. He caught it and raced toward the near sideline for a 74-yard touchdown that gave Rapid River the 30-26 lead with 4:59 left to play.

"It worked before, so we said let's do it again," Lenaker said. "I just caught the ball, bobbled it a little bit, but found my way into the end zone up the sideline."

"Coach tagged Max on a post (pattern)," Lundquist said. "So, I looked, and I read that there's no free safety back there. So, I figured if Max could beat his guy, he'd be wide open. So, I threw it, a little behind him, but I'm glad he got the catch."

The Rapid River defense had to make another stand, however, as the kickoff was returned to the Rapid 43 yard-line. The Bulldogs moved to the Rocket 20 yard-line when Suggitt's pass was intercepted by Lundquist. Rapid River got one first down on offense and that was that.

"They're a really good running team, and we struggled with our reads early," Lundquist said. "We fixed it at halftime and just made sure we could get our reads down. Just played football we've been playing our whole lives."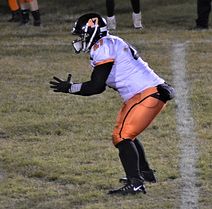 Earlier in the contest, Rudyard passed effectively against a Rockets defense that was determined to stop Suggitt's running.

Suggitt can also throw it, and he hooked up with a wide-open Mayer for a 35-yard touchdown on 4th-and-6 to give Rudyard the early lead.

Rapid River bounced back with a 68-yard drive, capped off by an eleven-yard touchdown run by Griffin Flath.

The two-point run gave Rapid River an 8-7 lead.

But in the second quarter, Suggitt tossed a 20-yard touchdown pass to Peterson, and after Jacob Nolan kicked his second straight extra point, the Bulldogs led, 14-8, at halfime.

Rapid River (6-1) took the second half kickoff and went on another drive, after Rudyard missed on one of its many on-side kick attempts. The Rockets started on the Bulldog 47, and after converting on a 4th-and-2 play, Lundquist hooked up with Lenaker for a 33-yard touchdown pass. Lundquist ran in the two-point play out of a naked formation, making it 16-14.

But Rudyard regained the lead on a bizarre play. Facing 3rd-and-6 at the Rocket 20, Suggitt lofted one toward the end zone that Max Lenaker intercepted. As he fought for yardage, however, Mayer knocked the ball out of his hands and grabbed it. The referees huddled, and ruled that it was a fumble and a Bulldogs touchdown, making it a 20-16 game.


Then after the two teams exchanged two more turnovers, Rudyard scored again, as Suggitt found Peterson for a 25-yard pass on 3rd-and-7 to the Rapid River one yard-line. Suggitt plunged in from one yard out to make it 26-16 with 53 seconds left in the third quarter.

That set up a wild fourth quarter when the Rockets made the plays to pull it out.

"It was a great game by both teams," Max Lenaker said. "A really hard-fought victory."

"We had to get takeaways, and we didn't get good field position at times." Ostrenga said. "And their on-side kicks. We were prepared for them, we practiced it. I mean, you've got to give that team credit. They did some things that just didn't work out our way, but obviously at the end, they did."

Rudyard finished at 3-4 with all four of its losses coming to teams with winning records, and all four of those games were winnable in the fourth quarter.

Rapid River travels to Cedarville in Round Two next weekend. The Trojans took care of Carney-Nadeau Thursday night, 38-6.