Kingsford JV's Top Gladstone; Rapid Varsity Wins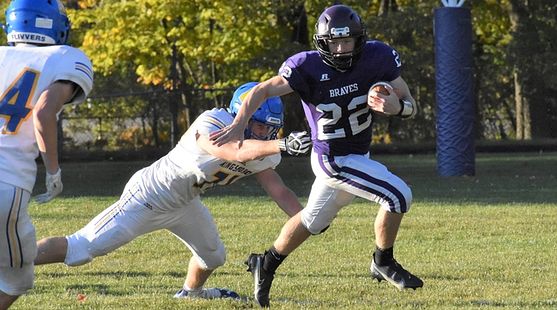 The Kingsford Flivvers junior varsity football team overwhelmed the Gladstone Braves, 37-6, Thursday night in Gladstone.

Meanwhile, in varsity action, Rapid River rolled past Newberry, 48-12.

RAPID RIVER 48, NEWBERRY 12---Griffin Flath rushed for 198 yards and two touchdowns as the Rockets pulled away from the Indians to win their third game in four starts.

Flath's touchdowns came early on as the Rockets took a 16-0 lead. Quarterback Brycle Lundquist scored four touchdowms, on short runs of one, three, one, and two yards.

The Rockets host the top-ranked team in the state, the Pickford Panthers, next Friday (live on Eagle 107.3 FM).

Click the AUDIO buttons above to listen to interviews from Thursday's post-game show.

KINGSFORD JV FLIVVERS 37, GLADSTONE JV BRAVES 6---Cole Myllyla scored two touchdowns on the ground as Kingsford took the early lead and rolled past Gladstone to stay undefeated on the season. Quarterback Nic Nora tossed a 54-yard touchdown pass to Troy Watt, and he also ran in a touchdown. Gladstone's only touchdown came in the second quarter on a 51-yard pass from quarterback Nate Young to receiver Braden Sundquist.

Click the thumbnails to see photos and videos from the game.