HAPPY IN HAPPY ROCK: Braves Football Is Back

GLADSTONE---The Gladstone High School football team rallied from a 14-point deficit to beat the Negaunee Miners, 22-20, Friday night in Gladstone.

The Braves played just one day after being able to practice again after some team members were quarantined due to COVID-19.


It was Gladstone's bend-but-don't-break defense, combined with the big-play offense, that led to the win against a Miners team that had a game under its belt, a 39-8 win a week ago against Manistique. The Braves forced four Negaunee turnovers on defense, and stopped a key two-point conversion run in the second half before Gladstone got the winning nargin on a two-point run of its own.

"I'm so proud of the guys," Gladstone Coach Jeff Hansen said. "They worked so hard. I've been saying 'control what you can control'. We haven't been able to get a full practice in. We haven't been able to play a game. But, man, did these guys come through, just to get to tonight, where we could step on the field and play a football game. And to be able to get a win against a great football program like Negaunee, I told them under the tree (behind the east end zone after the game) that they will remember tonight for the rest of their lives."

"It really says a lot," said Braves junior lineman Brett Boudreau, who had three tackles for loss and recovered one of the fumbles in the fourth quarter. "We haven't really had a lot of defensive practice, that's for sure. I mean, I've been gone (quartantined), a lot of guys have been gone, but on our 'D-line', it's just about being gritty. Anyone can do it, I mean, you've just got to be gritty."

"It's just so exciting and uplifting that you get to play a season when there's some schools that might not even play a season," Braves senior lineman Toby Wagner said. "We come to practice like it's our last, because in today's world, I guess they call it the new norm, you've got to play like it's your last because anything can happen. Someone could get COVID out of nowhere and you can get shut down for two weeks, which happened to us. So, this is a blessing."

"A lot of us guys have been working all summer long," Braves junior quarterback Cam Kelly said. "We've put in a lot of work. We wanted a season and a lot of us guys put in some serious work this summer. And through all of that, we've come close together. We're a close-knit group of guys right now."


There were times early on when Negaunee's Lukas Nelson was dictating the game with his hard running. The 6-foot-205-pound running back, along with fellow back Nash Hillier, broke off large chunks of yardage as the Miners built that 14-0 lead.

Nelson scored the first touchdown from eleven yards out to cap a 54-yard, 11-play drive. Then after the Braves sputtered on offense, the Miners moved the ball methodically again, with quarterback Will Luke. But he was hurt after a 12-yard run into Braves territory and did not return. Back-up Gerald Johnson immediately stepped in and lofted a 37-yard touchdown pass to a wide-open Phillip Nelson, and Negaunee led, 14-0.

Gladstone, was backed up deep in its own terriory, but got a spark from quarterback Cam Kelly. After senior Ryan Polley broke off a pair of six-yard runs, Kelly got free along the far sidelines and broke away for a 74-yard touchdown that put the Braves on the board.

In the final minute of the half, Johnson was intercepted when his dump-off pass was picked off by big man Mason Kinnonen with 40 seconds left on the clock.

Once on offense, Kelly lofted a long sideline pass to Cam Ballard, who was in single coverage at the ten yard-line. He waltzed into the end zone, and Kelly scored on an eight-yard two-point conversion run (after a procedure penalty) and it was tied up at 14-14.


Gladstone actually got another Negaunee turnover as Cole Potier recovered a fumble on the first Miners offensive play. But the Braves were out of timeouts and couldn't navigate the 33 yards into the end zone.

Negaunee's ball-control offense did its job again to start the second half, with a 66-yard drive that lasted seven minutes, and ended on Lukas Nelson's short touchdown run. The Miners missed the two-point run, however, and that would turn out to be big.

After the teams exchanged punts, the Braves started on their own 39 yard line.

A key 30-yard pass from Kelly to Cole Potier set Gladstone up in the red zone, and Polley raced in from 14 yards out on 2nd and 8 to tie the game. Kelly scored the two-point run and it was 22-20.

But there were still nearly ten minutes left in the game.

The Miners drove from their own 29 to the Braves 25 yard-line thanks to runs of 11 and 15 yards by Nelson, and an 11-yard run by Hillier. But Boudreau came up big again as he recovered a Nelson fumbled, so the Braves dodged the bullet.

Gladstone started to move the ball as Hunter Potier broke off a 13-yard run and Kelly rushed for 16 yards. But the Miners got new life when Kelly threw off his back foot on 3rd-and-3 from the 41 yard line and Phillip Nelson intercepted the pass.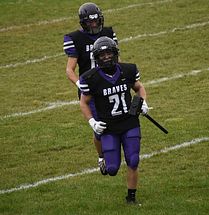 "That's my fault," Hansen said. "I got greedy. I thought we could slip the tight end out there and we could end it. The boys bailed me out there for sure."

They did. Two plays later, the Braves stripped the football from Lukas Nelson and Gladstone' Lucas Hughes recovered the fumble with 1:33 left in the game.

Negaunee used its time outs and the Braves run the ball three times and punted, giving the Miners one last chance for a miracle in the final 30 seconds. But a holding penalty, incomplete pass, and a sack by Gladstone's Blake Servant put the game to bed.

The game was played before a sparse crowd of team family members because of the governor's 500-person limit rule at outdoor sporting events, a number which included all players, coaches, referees, game day staff members, and media.

There was no concession stand, and the Braves band couldn't be there (although the cheerleaders were, their voices muffled under masks). But the joy of the Gladstone boys was unmistakable in the eerily-quiet stadium.

Gladstone travels to Sault Ste. Marie next Friday to face a Blue Devils team that has won two tight games against Traverse City St. Francis and Marquette.

"They've figured out how to win games in the Sault," Hansen said. "They beat a TC St. Francis team that sends guys to the NFL, and they beat a Marquette team that's been pretty stout the last couple of years. We will have a big battle over there."

Click the thumbnails in the ARTICLE HIGHLIGHTS box above to see photos and videos, and to listen to interviews.