Westwood Tops Manistique In Season-Opener 44-0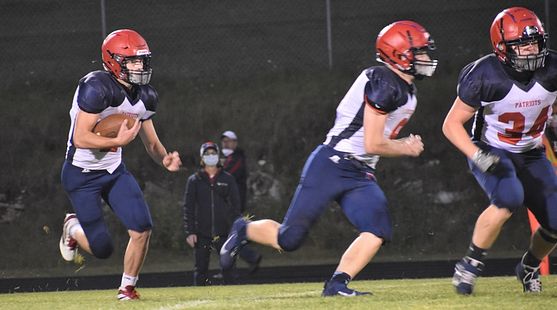 MANISTIQUE---The Westwood Patriots rolled to a big first quarter lead and allowed only one first down on defense, and beat the Manistique Emeralds, 44-0, Thursday night in Manistique.

It was the season-opener for the Patriots, who did not play last week because injuries made it impossible to field a team against Iron Mountain. But Friday night against the Emeralds, the Patriots looked healthy enough, and dominated in the trenches on both sides of the ball.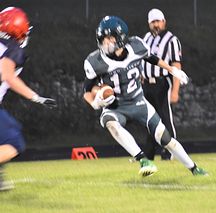 After the Emeralds and Patriots both sputtered on their first possession, the offense got going for Westwood as Garrett Mann broke off a 71-yard touchdown run to put his team on the board.

Then after the Patriots reccovered an on-side kick, they used strong offensive line play as Mann scored another touchdown, from four yards out, to make it a 16-0 game.

Zach Carlson scored the next two Westwood touchdowns, from seven and nine yards out, after he sprinted for a 77-yard run to set up the second score.

Manistique quarterback Wyatt Gierke was hassled and banged up all night long, and the Emeralds were unable to get anything going on offense, even against some Patriots subs late in the game.

Stephen Kangas and Jerzee Karki also scored touchdowns for Westwood.

The Patriots had one problem that they'll need to clean up: 13 penalties for 95 yards, many of them illegal procedure and false start penalties.

Click the thumbnails in the ARTICLE HIGHLIGHTS box above to see photos and videos.