BOYS ARE BACK: North Central Rolls In Opener

POWERS---The North Central High School football team scored early and often Friday night as the season got off to a delayed start, and beat the Ontonagon Gladiators, 84-6, in Powers.

Luke Gorzinski three touchdown passes and scored on a pair of touchdown runs. Alex Naser had three touchdown runs and a TD reception, and Ian gorzinski had two interceptions, includling a Pick Six as the Jets served notice that they will be a team to beat this fall.

"I just hope that everything stays the way it should, and we we can get out there and play every single game," NCA senior Carter Eichmeier said. "I tell you one thing, we're blessed beyond measure to be out here playing tonight. It's amazing. The way we played was awesome."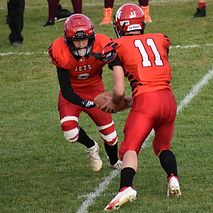 North Central dominated both sides of the line of scrimmage for the entire game, with even the substitutes scoring a couple of touchdowns after the Jets built a 60-6 halftime lead.

"A lot of people will say that our line is small, and really young, they don't know what they're doing," Eichmeier said. "But let's see a full senior line try to pull, block, and do trap blocks like we can."

Jets Head Coach Leo Gorzinski agreed.

"They put the off-season work in," Coach Gorzinski said. "That's why you take time in the back yard, why you take time in the weight room, and out here on the field. We've got a lot of athletes that are like-minded. We've got a great leader (quarterback Luke Gorzinski), but the difference is the offensive line. These guys are running three-man, four-man, five-man sets.

"We pull. We trap. We dive block. We come right at you. They've matured the most in this system."

Eichmeier was one of several North Central Jets players to make the long trip to Lansing lasy month to take part in the "Let Them Play" rally on the steps of the state capitol. Hundreds of players and coaches took part from around Michigan, imploring their leaders to allow football this fall. A week later, the MHSAA and Governor Gretchen Whitmer let football happen.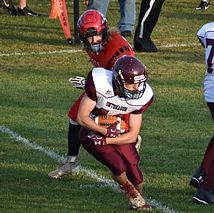 "I think everybody has a voice, and I think when we went down there, it set up today," Eichmeier said. "We wouldn't be out here tonight, doing what we love, if it wasn't for those people who went out there and did that. For those that couldn't make it, I know that you were there in your hearts, and we all do appreciate it because we're out here playing on a Friday night. Nothing better."

NCA jumped in front early on Luke Gorzinski's 51-yard touchdown run after he fumbled the snap, ran to the sideline, turned up-field, bounced off three tackles, and sprinted to the end zone.

After an Ontonagon punt, Gorzinski hooke dup with Ian Gorzinski for a 36-yard pass to the Gladiator one yard-line, then Alex Naser pounded it in for another NCA touchdown.

Less than two minutes later, after the Jets stopped Ontonagon quarterback Jaden Borseth three yards short on 4th-and-7 (set up by an Eichmeier sack), Naser broke off a 32-yard run into the red zone that led to a four-yard touchdown run by Luke Gorzinski.

Things then got worse for Borseth and the Glads, as a low snap went between his legs on the next Ontonagon possession, and the Jets recovered at the 14-yard line. One play later, Luke Gorzinski threw a touchodwn pass to Carter Tietz and after the same two boys hooked up on the two-point conversion, it was 30-0, and still 3:50 left in the first quarter.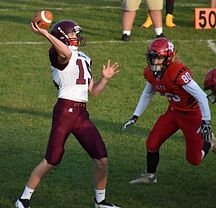 Ontonagon had some success in the air, as Borseth completed a fourth down conversion with a 20-yard pass ro Luke Strasser, and the Gladiatrors moved it to the NCA two yard line. But the Jets defense stiffened, and Ontonagon turned it over on downs. The NCA offense then went on a 93-yard drive, with Luke Gorzinski getting back-to-back runs of 23 and 26 yards, and then Naser broke off a 44-yard touchdown run to make it a 36-0 Jets lead.

Ontonagon got its passing game going again as Borseth completed a 4th-and-14 play with a 32-yard pass to workhorse Tommy Cousineau, then followed with a 23-yard touchdown pass to Eric Abramson, to put the visitors on the board with 8:24 left in the half.

The Jets finished the half strong, however. Luke Gorzinski's 47-yard run set up a nine-yard touchdown run by Naser, then Ian Gorzinski intercepted a Borseth pass deep in Ontonagon territory. One play later, Luke Girzinski tossed a 29-yard touchdown pass to Luke Kleiman, and after Wyatt Riley ran in the two-point conversion, it was 52-6.

And then the defense added to the scoreboard as Luke Gorzinski jumped a route and intercepted a Borseth pass, taking it to the house for a 50-yard "pick-six" interception. The Naser two-point run made it a 60-6 North Central lead at halftime.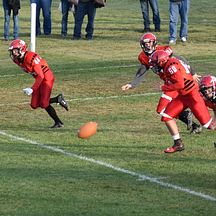 Ian Gorzinski's five-yard touchdown run capped a third quarter drive, afyer he had a 27-yard run on the play before, and Naser had a 28-yard run before that. Early in the fourth quarter, Wyatt Riley broke off a 77-yard touchdown run, and then Gavin Casperson scored on a one-yard run after he had a 36-yard sprint to start the final NCA scoring drive.

Back-up quarterback Brent LaBonte engineered all three of the second half scoring drives, and he scored all three two-point conversions.

Luke Gorzinski completed 5-of-7 passes for 87 yards and three touchdowns. On the ground, he had nine carries for 169 yards and two TDs.

Naser carried just five times, but three of those carries were for touchdowns. He accumulated 126 yards rushing. All together, the Jets had 538 yards of total offense.

Borseth completed 8-of-21 passes for 118 net yards, one touchdown, and three interceptions. The Jets defense hounded the Gladiator runners, holding them to 26 total rushing yards.

North Central hosts North Dickinson on Homecoming next Saturday afternoon. The game time will be announced on Monday. It will be broadcast live on WUPF-FM (Eagle 107.3) and on-line at www.radioresultsnetwork.com.

Click the thumbnails in the ARTICLE HIGHLIGHTS box above to see photos and videos from Friday night's game.