Gladstone Braves Fall In State Quarterfinals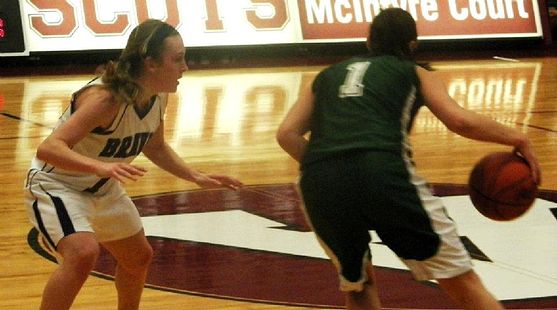 ALMA, Mich.---The most successful season in the history of Gladstone High School girls basketball seemed destined to end, one way or another, at Michigan State University's Breslin Center.

The girls were playing their best basketball of the season, clicking on all cylinders, riding high on a 24-game winning streak. But Tuesday night at Alma College, the Gladstone girls simply ran into a better team. The Freeland Falcons had too much firepower and the Braves could not match them offensively, losing, 66-52, in the Class B state quarterfinal game in central Lower Michigan.

Freeland junior Tori Jankoska scored 25 points and grabbed ten rebounds, and her teammate, junior Tara Padgett scored 20 points, as the Falcons took a big lead early and held off several Gladstone challenges all night.

"That's a very nice team that we just played, especially with how young they are (no seniors)," Gladstone Coach Karl Dollhopf said. "They just played a real nice game."

Erin Boddy hit a three-pointer early in the game to give Gladstone a 3-2 lead. That would be the only time the Braves would have the lead all night long. Freeland scored the next seven points as the Braves hoisted up several long three-pointers that were way off target. Dollhopf used two of his five time outs as his team trailed, 9-3, just three minutes into the game.

"I thought we fell in love with the three-point shot too early," Dollhopf said. "Our plan was, originally, to get it in the paint and they extended their defense and made it very difficult for us to see the paint. That's just a compliment to Freeland and their defense and their gameplan."
The time out didn't help. Jankoska nailed a three and keyed another run as Freeland led, 18-7, after the first quarter. The Braves managed to cut it to 21-14 in the second quarer, but the Falcons forced several turnovers and scored on lay-up after lay-up. The Freeland lead grew to 33-18 after the Falcons dribbled 80 seconds off the clock and got a lay-up from Abbye Wenzel late in the second quarter. It was 35-21 Falcons at the half.

"That wasn't what we expected going into halftime," Dollhopf said. "We gave up too many points to the guards. I think we got rattled early. We tried to regroup, they had very good, outstanding guard play. It's just tough to match."

Gladstone closed to within 35-25 as Jammie Botruff scored two straight baskets to start the third quarter. But the turnovers started to pile up on the Braves as Freeland went on a 12-0 run to lead 47-25 late in the third quarter. Gladstone fell behind by as many as 23 points (51-28) before coming back with a furious run in the fourth quarter.

Jordan Schwartz had a basket, Botruff hit four free throws, and Katie Becker nailed a three as the Braves closed to within 54-43 with 5:21 left.

Jankoska countered with four straight points to rebuild the Falcon lead to 15.

Botruff and Courtney Nevala both had lay-ups off of steals to close the gap to 60-49 with 2:05 left, and it looked like the Braves would get the ball when Jenna Leisner was knocked over at midcourt.

But the foul was not called, and Freeland scored a basket at the other end of the court to put the game away. Botruff closed her high school career the way she started it: on top. She scored 11 points in the fourth quarter as she tried to bring her team back from that big deficit.
Botruff ended up with 23 points in the game, and became Gladstone High School's all-time leading scorer with 1,465 career points. That's four more points than Brianne Weber had during her career back in the 1990's.

"These girls hung in there and stuck with it," Dollhopf said. "They could have packed it in and lost by 20, 30 points. But we're just too competitive to do that. I knew that our girls would re-group. I'm awful proud of this group for battling back throughout the night. But hats off to Freeland."

Gladstone finished 24-2, and one of the best eight teams in Class B. It is the second straight year that the Braves won both the district and regional championships, only to lose in the quarterfinals.

"I just want to thank everybody for the support they gave us all season long," Dollhopf said. "This was a very special group of girls, and the school and the community embraced them. To have 24 victories in a row, it's a tribute to them, and in the support that these girls get at home, in the school, and throughout the community. I feel really fortunate to have had a chance to coach them."

Freeland (23-3) will play in the Class B state semifinals Friday night at Michigan State University.