'VERY FRUSTRATING': Wonders Wants BB Season

Click the AUDIO button to hear the full interview with Wonders.

IRON MOUNTAIN---Time is running out for high school basketball players in Michigan, especially for the Class of 2021. The basketball seasons that normally would be at their midpoint right now have not started at all, and under current Whitmer Administration rules, won't tip off until at least Feb. 21.

For Iron Mountain senior Foster Wonders, considered one of the top basketball players in Michigan, this situation is very difficult. The 6-foot-5 shooting guard averaged 27.8 points and 7.8 rebounds a game last year, and was an Associated Press All-State first team selection in Division Three in both his sophomore and junior years.


"It's just been crazy for all of us," Wonders told RRN Sports on Tuesday afternoon. "Especially for the guys who had this happen during football, too, with all of the postponements and games getting cancelled at the last second. And now we're facing that with basketball, too. It's really frustrating. For us seniors, it's our last year. So, hopefully, they make a change."

The governor on Monday said that it's too risky for contact sports to resume right now, with a coronavirus "variant" raising concerns. She says that basketball increases contacts between people from different households, and can lead to spread of the virus beyond the basketball court.

As it stands right now, basketball teams are allowed to do drills and other forms of practice that do not involve close contact. But Wonders says for many of the guys who want to play at the next level, that's not good enough. He says now they're looking at out-of-state options.

"I've talked to a few guys who are probably going to make some travel teams and go out of the state, and play other schools who are going as travel teams, too," Wonders said. "I definitely have something that I'll be planning if none of this works out."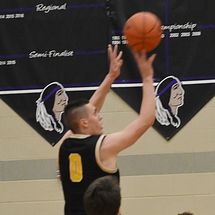 Indeed, the Michigan High School Athletic Association is worried about just that, because it has no control over what protocols are (and are not) followed at competitions in other states.

MHSAA Director Mark Uyl says Michigan kids are safer with their own coaches and families, and playing under the safety protocols that he says have been proven to work in other sports.

Wonders doesn't want to leave Iron Mountain. He says wants to represent his school, and his community, one last time.

"This is my last chance to suit up for them and play for Coach (Bucky) Johnson," Wonders said. "I just want to end it with who I started my career with."

Wonders, who will play for NCAA Division One school Southern Illinois this fall, says there are a lot of players who will lose their chance to play college basketball if there's no Michigan high school season this year. He says Michigan athletes will be at a severe disadvantage for scholarship opportunities against kids from other states who will play a full season.

"Every other state, pretty much, in the whole U.S. is playing," Wonders said. "They (college coaches) feel really bad for myself and everyone else in the State of Michigan to be going through this. The coaches want to see how much improvement you've made. They want to have as much updated film and they want to see what you're looking like right now. They don't want to see your highlights from last year. You could be a different player. I think this definitely effects players from Michigan who are still looking for opportunities and need this season."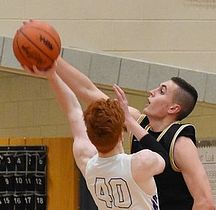 That is one part of a promised lawsuit from the group "Let Michigan Play", which cites lost economic and educational opportunities for Michigan athletes.

The Basketball Coaches Association of Michigan has also sent a letter to the governor, urging her to allow basketball to start on Feb. 1 as the MHSAA had planned.

"Our membership is focused on the safety of our athletes and their mental health," the organization said. "Return to competition is vital to their well-being. Michigan's future leaders need to get back on the court."

And living in Iron Mountain, literally on the Wisconsin border, means that Wonders sees his friends from just across the border playing while he can't. The boys from Niagara, three miles away from Iron Mountain, and Florence, six miles away, have played full seasons so far.

"Oh, man, it's really frustrating," Wonders said. "That's in the news every day. I see reports on social media of them having games on whatever nights they're having them on. It's brutal to be going through this right now and hopefully, the ruling gets reversed."

So, what would Wonders say to Gov. Whitmer if he could have a minute of her time?

"I would just say that all the other states, Wisconsin, Ohio, and Indiana, they're all playing right now," Wonders said. "They're all getting good reviews on how the COVID numbers are going, and how they're handling everything, and it's going successfully. They're having pretty much full seasons, and I just think there's no reason why we can't be playing right now."