Marquette Soccer Team Rolls Past Sault Ste. Marie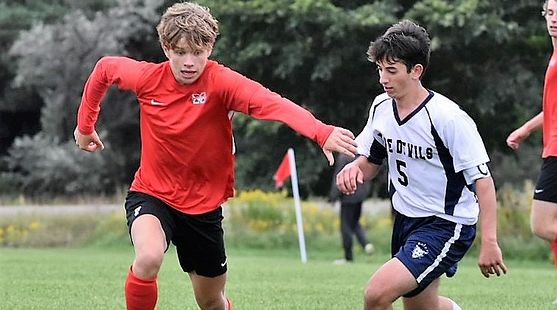 Information, photo courtesy of MSHS Soccer Team

MARQUETTE---The Marquette High School soccer team hosted Sault Ste. Marie Thursday night at Kaufman Sports Complex. Marquette won the game 5-0.
First half:
1-0 Kaleb Chipelewski from Jack Sysko
Second half:
Henry Wood from Ben Wilson
Andy Brunswick unassisted
Henry Wood from Kaleb Chipelewski
Kaleb Chipelewski from Dixon Poggi corner kick
Marquette keeper Edan Hautamaki faced no shots in net.
"Our defense played quite well tonight. When our keeper only touches the ball from passes from the defense, that is a good game," Coach Dan Salmon said after his team improved to 4-3 on the season. Marquette hosts Houghton next Tuesday.
Photo - Dixon Poggi (left in red) advances the ball past a Soo player. (Mary Sysko photo)