UP Players Having Impact With St. Norbert Football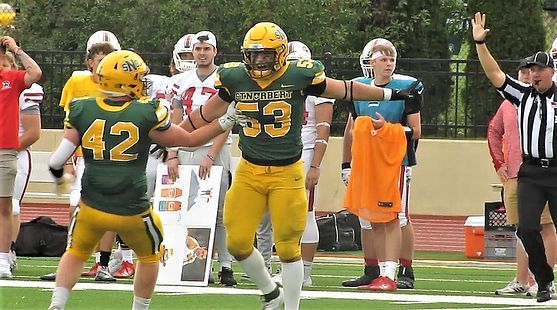 Click the thumbnails for photos, videos, and interviews with nine of the U.P. players on the Green Knights roster.

DEPERE, Wis.---The St. Norbert College football team opened its season on Saturday with a 23-7 win over Ripon College. The Green Knights roster includes eleven players from the Upper Peninsula, and three of them saw action in the victory.

Two Yoopers had standout performances: Daylan Lujan of Sault Ste. Marie, who had two quarterback sacks, another tackle for loss, and five total tackles.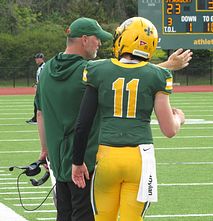 And big Lucas Tappy, an offensive lineman from Kingsford, helped to anchor an offensive line that dominated in the second half to the tune of three scoring drives.

Throw in Kingsford native Michael Meneguzzo, who came in at quarterback for the final few minutes, and there was plenty of highlights for the Upper Peninsula.

Eli Lofholm (Iron Mountain), Joey Kositzky (Escanaba), Adam Willette (Escanaba), Griffin Flath (Rapid River), Lane Nehring (North Central), Riley Murk (Munising), Bryce Buzzo (Ontonagon), and Hayden Makela (Wakefield) are also on the SNC roster.

Lujan keyed a big second quarter Saturday for the Green Knights, with two sacks, including one on the final play of the first half that lost the Red Hawks a dozen yards.

"We were all hyped up going into the game," Lujan told RRN Sports. "We started off a little slow, but in the end, we got the job done. Just preparing throughout the week. We knew it was fast quarterback, but the Scout Team (in practice) helped prepare me. Really just playing, and balling out in practice all week."

On the offensive side of the ball, Tappy was happy to contribute to a second half that saw the Green Knights take control of what was a 7-7 game halfway through the third quarter.


"It's just great to be able to play again, and to do my best," the former Flivver said. "I think their D-Line just got a little tired. You could see it once we gashed them on that long pass. Their D-Line wasn't getting set right away, and so we already had the jump there. And then it was just 'game time' from there, just doing what we've been practicing."

His former Flivver teammate, Meneguzzo, was happy to get in the game, although he got a false start at the end while trying to run out the clock.

"It was really nerveracking at first going out there," Meneguzzo admitted. "It was my first college game in real time, so it was really fun. I ran it (the clock) out the wrong way, right? But we got into victory formation after all, we got the win, and that's all that matters."

The other U.P. boys, despite not getting into the game, are still happy to be on the SNC roster and being able to grow their games, both in practice and in junior varsity matches.

"I love it here," Flath said. "It's my second home now. Three years here. Everyone's been my brother. I'm just trying to get to a leader role, now as a junior. Just grinding it out. People think it's natural talent to get here, but 9"5-percent of it is just hard work. You have to be a voice, you have to be a leader on the team. Be that hype guy, and you'll eventually move up."


Another man from the U.P. 8-man ranks, Murk, agrees.

"St. Norbert is a great football place," the former Mustang said. "I think I fit in really well. I mean, it's been three weeks. There's a little bit of a difference (from 8-man football), but I'm ready. Just have to work every day.

The two Eskymos are hoping they move up the ladder, now that they both have their freshman years behind them.

"I like a lot," Willette said. "It's like a second home to me. All the people I've met here, and all the people who've helped me, I can't thank them enough. I'm excited to finish my four years here. I've just got to keep my head down, grind, and work hard every day. Try to impress in practice and do my best every day. Hopefully, keep on improving."

"I'm working hard on the field and in the classroom," Kositzky said. "Pretty much what I did back home, just a little different scenery here. My role right now is just to help the 'Ones' get on defens to get better, and that's what I'll do to the best of my ability. The better the team gets, the better we all get (individually)."


Nehring, who was a U.P. Dream Teamer after leading North Central to back-to-back high school state championships, is also trying to make that next move as a college player.

"I'n glad to be close to home," said Nehring as he enters his sophomore season at SNC. "I love going back to the U.P., more than I should I guess. I'm just working hard, doing the best I can every day to try to crack that starting line-up. They (coaches) say I'm getting there. I'm almost there. I'm with the Two's right now. It's as close as I can get without starting."

Lofholm, a standout at Iron Mountain High School, is entering his third year with the Golden Knights, so he is also looking to make that next move.

"I switched positions as a freshman," Lofholm said. "That was an adjustment, but it's been fun. I'm not a big playbook reader. That's why i switched from cornerback to DB (defensive back). It's a little easier to process for me."

Lofholm says being a part of such successful Iron Mountain teams has helped him at this level.

"You work with those guys," he said. "One of the guys I worked with was Marcus Johnson and Bryce Piche. Two of my best friends growing up. I really wasn't at the level they were at while I was growing up. So, working with them is what has got me to where I'm at right now."


Meneguzzo says the SNC program is "very similar" to the Kingsford Flivver program.

"It's very family-based," the second-year, third string Green Knight quarterback said. "Everyone on the team makes everyone on the team feel like a brother. I'm just happy to be a part of it. Obviously, I had an arm surgery before I came here. I'm still trying to get my strength back. I'm still adapting to the speed of it, but I feel that I'm doing a pretty good job of it right now."

The two western U.P. boys, Buzzo and Makela, were in class when we put together this story. We will catch up witrh them in a later article.

THE GAME RECAP IS COURTESY OF SNC SPORTS INFORMATION

St. Norbert College turned in a dominant second half as the Green Knights pulled away to claim a 23-7 win over Ripon College in a non-conference game at Schneider Stadium.

The two former Midwest Conference archrivals were locked up in a 7-7 halftime tie before a field goal late in the third quarter pushed St. Norbert ahead. Two fourth-quarter touchdowns sealed the win for the Green Knights in the final game of a home-and-home non-conference series. St. Norbert and Ripon are currently not scheduled to meet in 2024 or 2025.

Ripon moved inside the St. Norbert 10-yard line and had a first-and-goal at the Green Knights' 7. St. Norbert held the Red Hawks on downs, but punted after three plays.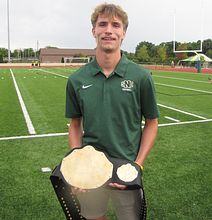 A short kick gave Ripon the ball back at the St. Norbert 29, and the Red Hawks needed just two plays to score on a 24-yard touchdown pass from Jarrett Zilbert to Demarcus Conner with 6:30 left in the first quarter.

St. Norbert pinned Ripon deep in its own territory early in the second quarter, forcing a punt from its own 1-yard line. The Green Knights took over at the Ripon 34 and needed seven plays to score, converting on a 1-yard plunge by Delton Zuleger with 6:55 left before halftime.

Ripon took the ensuing possession and marched to the St. Norbert 18, but Erik Flores' 35-yard field-goal attempt was wide left with 2:10 left before halftime. Each team had one more possession before halftime and settled on a 7-7 score at the break.

St. Norbert stopped Ripon on the first three possessions of the second half before getting untracked offensively to take the lead. A 36-yard pass from Peyton Lyon to Austin Miller put St. Norbert in a first-and-goal situation. The Green Knights eventually settled for a 22-yard field goal from Tyler Juergensen for a 10-7 lead with 2:20 left in the period.

The Green Knights then hit on another big pass play early in the fourth quarter, when Lyon hit Mitch Van Vooren on a 37-yard play to the Ripon 3. Zuleger scored from a yard out two plays later for a 16-7 lead with 10:05 left. St. Norbert then recovered a Ripon fumble at the Red Hawks' 14-yard line. The Green Knights needed four plays to score on yet another 1-yard from Zuleger to salt the game away with a 23-7 lead with 8 minutes left.


St. Norbert outgained Ripon 281-207 in total offense. Lyon completed 28 of 44 passes for 234 yards, with his completion total tied for third-most in a game in school history.

Austin Miller caught 10 passes for 87 yards, while Van Vooren had six catches for 64 yards. Paul Bageanis added six catches for 37 yards. Zuleger rushed for 33 yards on 13 carries with three touchdowns.

The Green Knights' defense had solid pressure on Ripon's quarterback throughout the game, registering seven sacks. Sam Barnett and Daylan Lujan had two sacks apiece, while Alex Campbell, Kyle Santos and Justin Benoit each had one. Barnett finished with a team-high eight tackles.

Ripon was led by Jarrett Zibert, who completed 13 of 30 passes for 153 yards with one touchdown and one interception but was sacked six times. Connor Ramage led the Red Hawks on the ground with 61 yards on 13 carries.