ON THE PROWL: Young Cougars Ready To Rumble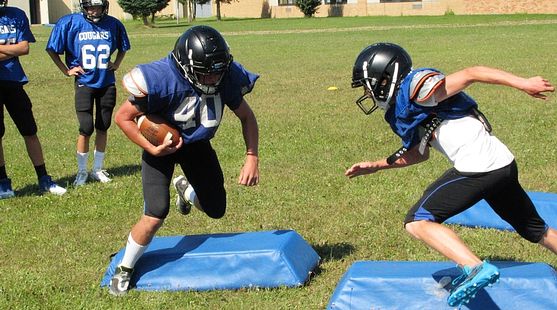 Click the thumbnails to see photos and practice videos, and to hear interviews with Jason Kanerva, Elijah Penney, C.J. Adams, and Coach Josh Trader.

EBEN JUNCTION---The Superior Central Cougars football team has wrapped up two weeks of practice, and like other Upper Peninsula teams, has some optimism as the season-opener approaches.
The Cougars managed only one win last year in a 1-7 campaign. Head Coach Josh Trader and the boys are hoping to be more competitive this year, as eleven freshmen and sophomores outnumber the seven guys who are either juniors or seniors.
"We're definitely on the young side," Trader said. "The biggest thing we need to work on is our confidence. You know, if something happens, forget about it. There's 120-ish plays in a football game. So, if you make a bad play, we've got to be able to move on. And a lot of that just comes with experience and being mentally-tough."
One of the few veterans in the Cougar lineup is Jason Kanerva, who got Special Mention accolades last year for his play on the line.
"I'm excited," Kanerva said. "It's the best time of the year. We're trying to get the offense down. Last year, we did triple option, but not this year. Just basic run plays, because the line looks good. And our passing has looked good. We've all put in the work this summer. A lot of people showing up for weightlifting. I think we'll be good this year. Gotta play fast, play hard, and play together."
Quarterback C.J. Adams says the team is working hard.
"I am feeling great about this season," he said. "It's gonna be a very fun season. We're changing up the offense and having a few more formations than last year. Last year, we had like one, and now we have three or four. That's gonna be very helpful for us. We've been hustling, and our conditioning drills have been going well. And (passing) routes and coverage have been good."
Senior Elijah Penney is a defensive end and offensive guard. He was an All-U.P. First Team selection last year after not playing football at all the previous two seasons.
"I think it's gonna go better than last year," he said. "We've got some good freshmen. Hopefully, we can teach them some things. The seniors are doing pretty good, leading pretty well. I'm hoping that our performance doesn't tank as the game goes on if something bad happens. I hope we don't dwell on it."
Trader says practices have gone well, and he's encouraged as the season gets going later this week with a home game against Cedarville.
"They're responding well," Trader said. "We've been doing a lot of injury prevention and agility-type stuff to get to get these guys ready, rather than just hammering them in the heat. They're having fun. I'm feeling a little more excitement from them, and more confidence. As a coach, that's awesome to see."