Eskymos, Broncos Hook Up In Football Scrimmage
Click the thumbnails for photos and videos from the scrimmage, and to hear comments from BR-H seniors Ethan Ives and Ben Shiverski, rookie Phil Wandasega, and both teams' head coaches.

ESCANABA---The Escanaba Eskymos and Bark River-Harris Broncos hooked up in an exhibition scrimmage football game Thursday night at the Escanaba Athletic Field, and when it was over, both sets of players and coaches left the field happy.
The teams ran six sets of ten straight plays, for a total of 60 plays. There were referees on the field, fans in the stands, and the game was played on the main football field. But no score was kept.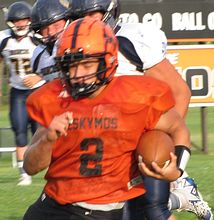 "It's great to be back on the field and having the kids play some live action football," BR-H Coach Al Stenberg said. "I feel really good about this scrimmage. We had a freshman team for the first time in our school's history, and they got some reps. The JV's looked pretty good, and the varsity team, we had some nice passes for touchdowns. We have some things to work on, but that's scrimmage football."
What was Escanaba Coach Bailey Lamb looking for?
"Sharpness of the offense, guys lining up in the right spot and knowing what to do," Lamb said. "Just, energy. We looked good tonight. We were sharp and the kids had fun, and we came out of it healthy. That's the big thing. Every single player got in, all 43 of them. It was good."
Escanaba quarterback Nolan Bink threw touchdown passes to Javon Stevenson and Alex Stalboerger, and running back Ben Johnson broke off several nice runs in limited play. BR-H quarterback Ethan Ives threw touchdown passes to Dom Langtagne and Olin Johnson, Ben Shiverski ran in a touchdown, and Christian Spear and Phil Wandasega intercepted passes.
"I think it went pretty good," Ives said. "I think there's definitely some things that we need to iron out here. We came out, and we had a lot of jitters. I think towards the end there, we lost them (jitters), and just played some football, and had some fun."
Escanaba opens its season next week against Calumet, while BR-H will visit Westwood.