Mid Pen Wolverines Look For Improved Year Two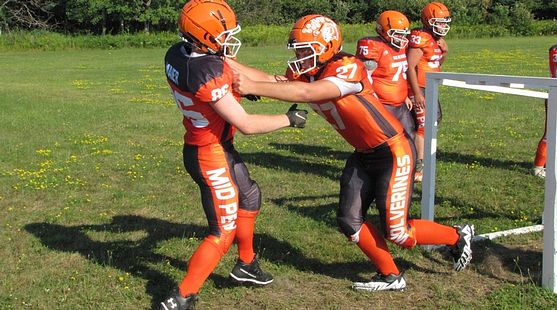 Click the thumbnails to see photos and videos, and the AUDIO buttons to hear comments from Bradly VanDamme, Caleb Lofquist, John Arndt, and Coach Sam Eggleston.

PERKINS---The Mid Peninsula High School football team is looking for bigger and better things after the 2022 season ended with a 2-7 record. It was the first season for Mid Pen's revived football program after the small northern Delta County school went years without having a team of its own.
Wolverines Coach Sam Eggleston says the team took its lumps last year, but he's hoping that experience will pay dividends this year.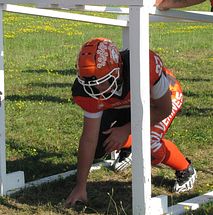 "They're gonna have to block a lot better than they did last year," Eggleston said. "They're gonna have to be more aggressive. We do have a lot of returning kids from last year's line, so that's pretty big for us. We're gonna go unbalanced on our offensive line, and that'll give us more of a 'push' than we would've had in the past. And we're expecting that when there's no holes, our big fullback is gonna make bigger holes for Bradly to follow."
That "big fullback" is Caleb Lofquist, who says he is up for the challenge this season.
"I want to improve from last year, and I think I'm gonna get a lot more targets, a lot more carries," Lofquist said. "I'm hoping to help out the team a lot. Numbers are gonna struggle, especially with a lot of younger guys coming up. We really took for granted the guys we had last year. We had some strong guys, and we had some fast guys. So, we're hurting on the numbers and we're hurting on the athletes, but we're gonna make athletes out of these young guys yet."
The unquestioned leader of the team is quarterback Bradly VanDamme, who's going to have to run a lot more this year than last year, when he had Michael Englund as his deep receiving threat.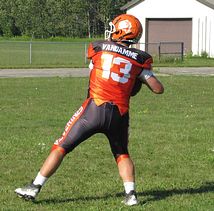 "I'm ready to go this year, it's my second year of playing football," VanDamme said. "Practice has gone well. The intensity has been there. Everybody's been willing to learn. We're definitely gonna be run-first this year. I know where I need to go with the ball more often, and hopefully limit the turnovers and score more touchdowns."
Eggleston says the Wolverines will go as far as VanDamme can carry them.
"You hate to put it on one kid, but Bradly's gonna have to be the one to lead us to where we're gonna be," he said. "The two wins last year were pretty big for us, and hopefully we can build on that."
One of the role players for Mid Pen this year will be lineman John Arndt.
"I think we're gonna get a lot more touchdowns and win more games," he said, confidently. "I'm gonna have to contribute better on blocking and run through that line defensively."
Mid Pen was scheduled to scrimmage against Engadine on Friday. The Wolverines will open their season against South Shore, Wis., on Aug. 26 in Hurley.