LEGIT CHANCE: Norway Confident For '23 Season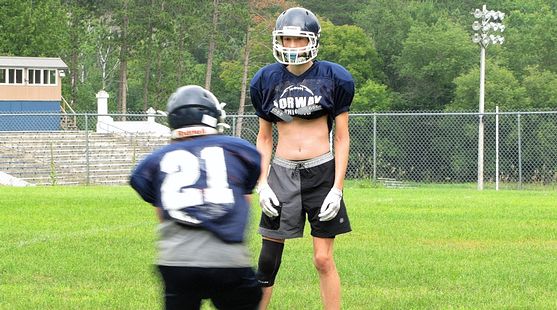 Click the thumbnails to see photos and practice videos. Also click the AUDIO buttons to hear interviews with Hayden Amundson, Ian Popp, Wyatt Spade, and Head Coach Scott Popp.

NORWAY---For the past three years, the Norway Knights have had some pretty good football teams. But their best efforts have paled in comparrison to the North Central Jets, who dominated everybody en route to three straight state championships.
As a new football season begins, the Knights have one of their most veteran rosters in years, and feel that this might be the year that they knock off their rivals from just across the county line.
"They've been really solid," Knights senior Ian Popp said. "They've lost a couple of guys, but they're still a good team. We're coming for them this year, and I'm really excited about it."
"I'm definitely looking forward to the game," fellow Knights senior Wyatt Spade said. "It should be a great game this year. It's at home. They're still a great team. Good coaches and good players. But I definitely think we gace a good chance."
While the Jets will be without All-State quarterback Luke Gorzinski and several other key players due to graduation. Norway Coach Scott Popp still considers NCA as the best team until his team proves otherwise.
"They're still North Central," he said. "They're disciplined. They're fast. They're well-coached. So, you really can't say that we have more of a chance. They're still good."
Besides the looming battle with the defending state champions, Coach Popp says his team needs to take care of business. And he believes they have the ability and the experience to get the job done this fall.
"A lot of our specialists are back, but our line is young," he said. "We've got some talented receivers and quarterback. We're sitting pretty good, so it's gonna be real exciting. We have to stay healthy. We don't have a lot of numbers. We're sitting pretty good with our numbers, and the talent behind those numbers. But we have to stay healthy."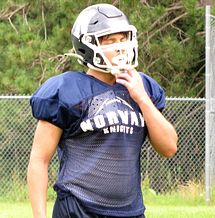 "All of our guys have been in the weight room for six, seven months now," Norway senior Hayden Amundson said. "All of us have been working out every single day, coming to practice, coming to camps. We had a lot of guys step up, and the younger groups have stepped up. Everybody is putting their heart and soul into it."

The senior class is taking the leadership role seriously, knowing that this year, they have a legitimate chance of making a run.
"Just being a leader," Spade said. "Me and a couple of other guys, we've just got to do our part to keep the younger guys motivated."
"I feel like I have a big role on our team," Ian Popp said. "Just stepping up and playing a lot of positions, helping guys out. It's gonna be a fun ride, the last one with the boys."
The Knights will play Lake Linden-Hubbell twice in the first three weeks of the season, with Carney-Nadeau and North Dickinson cancelling their seasons.