Escanaba Football Hoping For Better '23 Campaign
Click the thumbnails to see practice photos and videos, and to hear interviews with Ben Johnson, Nick Chiu, Noah Gagne, and Coach Bailey Lamb.

ESCANABA---High School football practices are under way across the Upper Peninsula, and one team looking for a better year is the Escanaba Eskymos, after having a 2-7 record last year.
Escanaba Coach Bailey Lamb says the attitude is different this year, and last year wasn't really as bad as that 2-7 record indicates.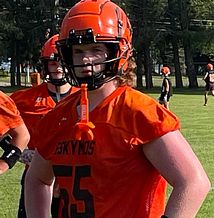 "Last year was tough record-wise, but honestly, just the leaps the program took, from lower levels, and where we progressed to, there was a lot of good to take from it," Lamb said. "We're taking that, and starting off quick this year. It's been good. We have almost 60 kids from freshman to JV, and almost 45 for varsity. So, right now, we've got a full load of kids."
Lamb says he's focusing on the fundamentals in these early practices.
"Getting back into the swing of things, getting adjusted to the heat, wearing equipment and everything," he said. "It's Year Two in the system for a lot of these kids, so terminology, and learning all of the plays, a lot of them are kind of past that, and now we can work on refining things and doing what they do best. Playing fast instead of thinking."
The Eskymo players also have a sense of optimism, led by senior running back Ben Johnson, who has committed to playing ball at Michigan Tech University.
"I'm so excited," Johnson said. "I've been working so hard this off-season for this, so it's just amazing to get out here with the boys and play some football. I've put on about 20 pounds this off-season. I'm feeling a little bit faster, so I'm hoping to implement that into my game."
Fellow senior Nick Chiu is also ready to go for one last crack at it in an Eskymo uniform.
"We've got a lot of kids this year, and we're looking sharper," Chiu said. "Our offense is a looking sharp. We're gonna be faster, our line to the ball. And the defense is looking sharper. A lot of us have been putting in a lot of off-season workouts all summer, so I think we'll do very well against our competition this season."
On defense, the Eskymos will have to be much better this season.
"I feel like we'll be a lot better than last year," senior middle linebacker Noah Gagne said. "I think a lot of people will have very low expectations, but I think we're going to beat those expectations. My goal this year is to hold other teams to a lot less yards than they got last year. Because last year, we couldn't stop them."
So, what does Gagne think will be different this year for the team as a whole?
"I think we're going to be a lot more serious coaching-wise and player-wise this season," Gagne said. "Last year, we didn't really take it as serious as we should've."

"It's just amazing," Johnson said. "We're so much better than last year. Probably triple the amount of kids showing up for (off-season) workouts than last year. I can tell that everyone is faster to the ball. We're a lot better blocking."