All-Star Game Founder Explains Decision To End It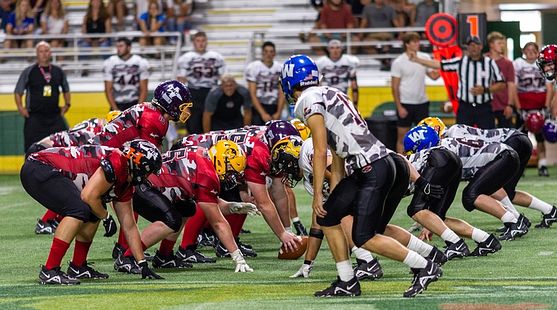 Click the AUDIO button to hear Casey Ford's full interview with Todd Goldbeck
MADISON, Wis.---The man who founded and has run the Upper Peninsula high school football All-Star game for the past 16 years is speaking out about why the annual event is not going to be held anymore.
Todd Goldbeck at Xcel Physical Fitness in Madison, Wis., spoke exclusively with the Radio Results Network's Casey Ford, and answered the biggest question: why? The main reason: he needs to spend time with his family.
"I hope everyone can understand that that's where it comes from," Goldbeck said. "My son Tanner is in the seventh grade. He's 13. When I started this game, he wasn't with us. I mean, this game has been a part of his life his whole life. As they get involved with more sports, it gets more in-depth. He's traveling nationally for volleyball on a club team. The game (All-Star football game) takes 1,000 hours a year to organize, and I miss a lot of things being with him and traveling with him. That's a big deal. It really is about family, that's what it comes down to."
Goldbeck says he's also looking after the two young sons of his close friend who passed away in the past year. Being with those two boys at their hockey tournaments is very important to him.
"That's a big deal, too," Goldbeck said. "Now we don't have one kid. We have three. We need to be there for them."
While the announcement came on Monday and surprised many people in Upper Peninsula football corners, Goldbeck says this decision was not abrupt.
"I knew going into this year that this would be the last year," he said. "Last fall, when I was picking the teams and going through the process, I knew this was gonna be it.
Another question: has Goldbeck tried to find someone else to take over the game, and have it continue into the future?

"I hope it does," Goldbeck said. "We set out to do something for the U.P. I know what I put into it. And if it becomes as good or as equal to what I put into it, great. If not? Well, I do hope it continues. I hope there's an opportunity for future kids to do it. I think that would be great. Anybody can start anything. And I hope they do. If someone does, they're gonna have to involve the coaches. If somebody leans on the coaches and they set something up, I'm really willing to help and consult."
So why did the announcement come now, six weeks after the last game was held at the Superior Dome?
"I wanted to wait for football to start, for the high school season," Goldbeck said. "If for nothing else, I realize that this is a big deal for kids. Especially those who know that they're not gonna have a strong team. So, they look forward to the All-Star game. This is what they play for. I didn't want to leave those kids hanging out there in July, so I wanted to make sure that I reached out to coaches and let them know, so they can be with their kids, they're practicing together. They can support each other."
Looking back, Goldbeck says the game grew, and turned into a great success.
But now, he says, it's time to move on.
"If not now, then when?" Goldbeck said. "When we set out to do this, it was before we had kids, and I was younger and more ambitious. It was a fun thing that kind of spun off some of the football things and the training things I was doing. We took it one year at a time, it became successful, and I'm super-happy about that."

Goldbeck's letter to the omcmunity is posted below:

U.P. Football Players, Coaches, Families and Fans,

It is with a mix of emotions that I announce that 2023 was the last year of the U.P. Football All-Star Game.

I can't thank everyone, because the list is too long, but I need to thank the coaches, because without them, this event never would have gotten past the idea phase. You gave your time, energy, and passion to this event.

I am forever grateful for the friendships I have made in the coaching community throughout this process. Some of you are like fathers to me, some of you are like brothers, and some of the younger guys are like my kids, but you all feel like family in some way. You made this entire experience so very special to me and I'll always remember that with the fondest memories.

The U.P. Football All-Star Game has simply been about U.P. football, celebrating that unique culture and the people involved in it. The main goals for me personally have been to get every school represented each year and give the players the best possible experience during All-Star Week, while also using the great sport of football to teach and reinforce some important life lessons.

Over the years, we have focused on the importance of community, being grateful to those people in your life who have helped you on your journey, and to repay that debt by helping others on their journey whenever and wherever possible.

We also emphasized being generous with your time and service to others. The experience has been about teamwork, camaraderie, and making new friendships with people who were unknown prior to All-Star Week or had been rivals for an entire lifetime. Over the past 16 years, we tried to imprint all of these ideals onto the players.

During that time, did we actually accomplish those things we set out to do? Did the players take this experience with them when they left All-Star Week? Did it make a lasting impact on their lives? That is not for me to decide.

That can only be answered by those people who participated in this event over the years or were touched by the U.P. Football All-Star Game in some way. There are many players who have been part of this event and are now scattered throughout the U.P. and across the country, building lives of their own. We hope they have taken to heart some of the lessons we have tried to model for them and are making a positive impact in their own communities.

All I can say is that I did my very best to stay true to the purpose of the game and the values we tried to reinforce with the players. I gave this event everything I had from the very first player in 2008 to the very last player in 2023. For that, I am satisfied.

"I have fought the good fight. I have finished the race. I have kept the faith."

2 Timothy 4:7