MOVING ON: Gladstone Rolls Past Iron Mountain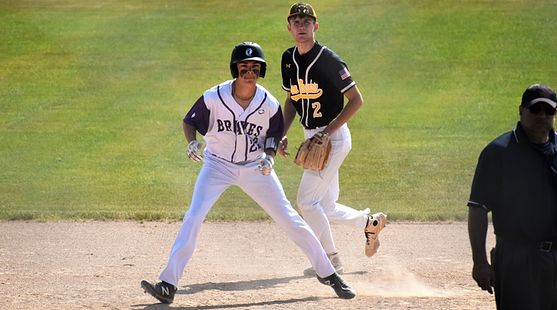 Click the thumbnails to see photos and videos, and to listen to post-game comments from both coaches, Nate Young, and Aedan Creten. You can also hear to a replay of the game, broken up into six parts, by clicking the AUDIO buttons.

GLADSTONE---The Gladstone High School baseball team scored eight runs in the first inning and coasted past the Iron Mountain Mountaineers, 17-5, in the MHSAA Division Three Regional Semifinals Wednesday in Gladstone.

It was Gladstone's fourth playoff win in the last eight days, all of them by the mercy rule, by a combined score of 56-12. The result moves the Braves into Saturday's regional championship game in Traverse City against a much tougher opponent: the Benzie Central Huskies.


"The kids played really well today," Gladstone Manager Joe Darmogray said. "They hit the ball really well. We had a couple of errors here and there, but if we clean that up, we'll be OK. I think the guys lost focus there a little bit. But it's nice to get back there (the regional final). It's been a few years."

Gladstone had a very long first inning, sending 13 batters to the plate and scoring eight runs, as Iron Mountain pitcher Carson McLean walked six batters. The first three walks were on 3-2 pitches, but when McLean was not getting the calls ge wanted from the home oplate umpire, he became upset and walked three more batters on just 15 pitches.

"First couple batters there, I sure thought there were some marginal calls," Iron Mountain manager (and Carson's dad) Jeff McLean said. "With the MHSAA rules this year, and the ;point of emphasis (on strike zones), I thought they were too good pitches to take, and, ultimately, they called them balls. But then Carson got rattled there, and he definitely was missing. Rough day for him, and his grandmother went into the emergency room this morning, so that was on his mind. Either way, he gave up too many runs."

"The guys are seeing the ball really well," Darmogray said. "That's kind of what we preach, that, hey, you get one close, put it in play, or foul it off, just do the best you can do."


Gladstone took advantage of those free passes in the first inning when Nate Young smoked an RBI double and Isaac Ketchum brought him home with a single. Then later that inning, Young got up again, this time with the bases loaded, and roped a three-run double into the left field corner. All of a sudden, it was an 8-0 game.

"The first good pitch I get, usually, I'm just taking what I can get," Young said. "It felt pretty good. Started off well, didn't finish too hot (two strikeouts later), but it's ll right, you can't get all of them. We like to come out fast, get some runs on the board, and that just ensues confidence in us."

"I felt pretty good," said catcher Isaac Ketchum, who had three hits and two runs batted in. "The sceond pitcher (Niko Burgoon) was throwing a lot of sliders and curveballs, so I just reached my hands out a little more, sat back on it, and ripped it. I feel I did pretty good. Three-for-four. I'll take it."

Braden Sundquist filled in on the mound for the under-the-weather ace, Tyler Darmogray. Sundquist went 2 2/3 innings, allowing five runs (two earned) on five hits, throwing 69 pitches, which keeps him eligible to throw if needed on Saturday. Lefty Brennan Detiege wrapped up, throwing the final 2 1/3 innings, allowing no runs or hits.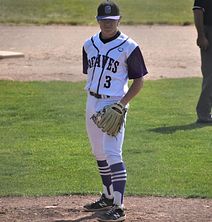 The icing on the cake for the Braves came in the fifth inning when first baseman Aedan Creten unloaded on a long three-run homer to right field, a shot that easily cleared the fence and sailed over a row of cars, landing near the Little League Cannon Field.

McLean took the loss on the mound, giving up eight runs on two hits and six walks in that rough first inning. Niko Burgoon threw four innings, 97 pitches, and threw strikes, but he was hit hard, giving up nine runs on nine hits. He did stike out eight batters.

"Gladstone is a premier program, so you start with congratulating them," Coach McLean said. "They're a great team. They're going to represent the U.P. really well down there. Best of luck to those guys."

For the Mountaineers, Luke Decker had a two-run single and McLean had an RBI double. Iron Mountain's Cinderella playoff run ended after the Mountaineers went just 2-15-1 in the regular season before winning a pair of games on Saturday to take an improbable district title.

"When you're down and out, and people don't believe in you, it shows character to keep battling back," Coach McLean said. "This group of seniors, they've brought Iron Mountain to two regionals in three years. That;s great for them, they've left a legacy for themselves, and for Iron Mountain Baseball, which is relatively new (seven years)."


BRAVES ON DECK: BENZIE CENTRAL---The schedule obviously gets tougher now, as they play for a regional championship on Saturday at the new ballpark in Traverse City.

Gladstone will take on Benzie Central (22-15-1) after the Huskies held on at the end Wednesday to beat the White Cloud Indians, 5-3, in their regional semifnal.

The Huskies scored three runs in the first inning, but couldn't put the Indians away, and junior pitcher Dan Wallington The Third managed to get a groundout with the tying run in scoring position in the seventh inning to seal the deal.

Cael Katt had three hits at the plate to lead Benzie offensively. The White Cloud Indians made three errors in that first inning which helped the Huskies to grab that early lead. They finisjed thetr season with a 23-11-1 overall record.

OTHER REGIONAL MATCH-UP---The winner of the Gladstone-Benzie Central game will play later Saturday in the state quarterfinal against either Charlevoix (31-5-1) or Standish-Sterling (27-14-0). Those two teams will play in their regional championship game at the same time the Braves are playing the Huskies. The winner of that 2:30 game will head to the state semifinals at Michigan State University next weekend.

LIVE RADIO COVERAGE---Tune in to Gladstone Braves baseball at 12:00 noon on Saturday from Traverse City on FM-93.5, AM-600, and live streaming at www.rrnsports.com. The Gladstone girls softball regional game will be on those stations first, at 10 a.m.