Braves Baseball Cruises To District Championship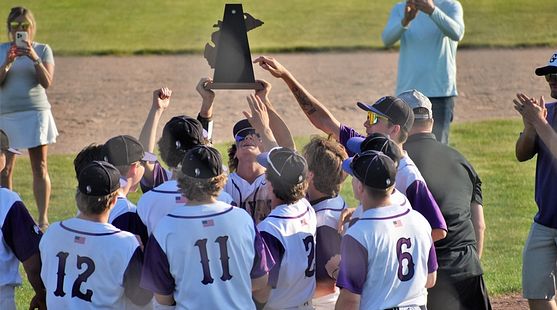 Click the thumbnails to see photos, videos, and hear post-game interviews.

GLADSTONE---Don't take anybody lightly.
That was the message from the Gladstone High School baseball coaches as the Braves entered the MHSAA Division Three district tournament as overwhelming favorites. And the Braves took care of business with two mercy-rule wins, 15-3 over Manistique in the semifinals, and 11-1 over Superior Central in the championship game.
The district championship sends the Braves into the regional semifinals against the surprising Iron Mountain Mountaineers.
Iron Mountain won only two games all regular season, but won two playoff games on Saturday to win a district championship in Negaunee.
"Coaches told us from the start that we're going to come in here, it doesn't matter how many runs we're gonna score, we're just coming to run up the score if we need to," Braves third baseman Noah Peterson said. "Not holding back. That's what we've been doing, and that's been our mindset. Whoever wants to win the most is going to come out on top."
"I felt like we hit the ball good and our pitchers were good both games," Braves senior pitcher Tyler Darmogray said. "We barely had any errors in the field, and when we did, we cleaned them up."
Friday's district games were played under bright sunny skies, but 90-degree heat. The players are more used to playing under cold, sometimes snowy, 45-degree weather. It got to Darmogray early in the day, but he was able to recover.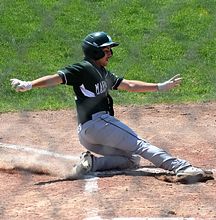 "I felt like crap, but I puked it up, and I'm good now," Darmogray laughed. "We're not used to this. I mean, practices this week it was like this, but it was miserable today."
"It was hot," Peterson added. "Coaches just wanted us to stay hydrated all day long. Having the gap between games was helpful because we got to eat and chill out in the shade, sit in AC. I think that's better than playing a doubleheader like Superior had to do."
One of the best parts of the Braves game on Friday was the aggressive baserunning. They stole seven bases, and routinely took that "extra base" in first-and-third situations.
"We have to keep moving," Braves Manager Joe Darmogray said. "We have good speed and they're smart baserunners. We get in the first-and-third, I want them to take second, then you don't get doubled-off or anything like that. We practice it and practice it."
Against Manistique, Gladstone scored nine runs in the first inning and added five in the second inning to build a quick 14-0 lead.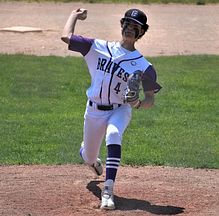 The Emeralds made seven errors, while the Braves pounded out twelve hits. Darmogray led the way by going 3-for-3 at the plate, Braden Sundquist was 3-for-3 with three runs batted in, and Aedan Creten had three hits and two runs batted in.
Darmogray pitched the first inning, then went to get rest after throwing 13 innings. Underclassmen Trevor Thorban and Austin Pepin each pitched two innings to close it out.
Against Superior Central, Peterson had two hits and four runs batted in, and Sundquist added three runs batted in. Isaac Ketchum contributed two hits and two RBI.
A rejuvenated Darmogray took care of things on the mound, throwing all six innings, using only 75 pitches, striking out eight batters while giving up two hits and a walk.
The Superior Central Cougars earned a spot in the championship game by beating Newberry, 6-2, behind the strong pitching of Blake Walther. Against the Braves, Trent Rutter threw 5 1/3 innings and gave up all eleven runs on ten hits.
Gladstone improved to 18-6 on the season and will face Iron Mountain (4-15-1) in the regional semifinals Wednesday afternoon. Game time is 4:00 ET/3:00 CT. It will be broadcast live on FM-93.5/AM-600 in Escanaba, FM-94.3 in Iron Mountain, and on-line at www.rrnsports.com.