ORANGE CRUSH: Mid Pen Boys Win UP Golf Title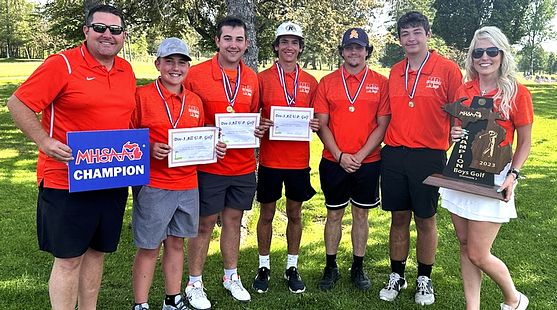 Click the thumbnails for photos, videos and interviews.

HYDE, Mich.---The Mid Peninsula High School boys golf team captured the MHSAA Division Three Upper Peninsula championship on Wednesday, and it was mostly a family affair.
Wolverines junior Bradly VanDamme won the individual medalist honors by firing a 77 at the Highland Golf Course outside of Escanaba. His little brother, seventh grader Christian VanDamme, finished in fifth place after shooting an 81. And the coaches, Earlene and Eric VanDamme, were there smiling alongside their two golfers.
Crashing the VanDamme party was Bradly's close buddy, fellow senior Michael Englund, who finished second overall, just one stroke behind Bradly with a 78.
All in all, it was a great day to be a Mid Pen Wolverine.
"It felt great," Bradly VanDamme said. "It was nice to get out there today and compete. I wanted to keep the ball in play (on the fairway), hit well off the tee, and just play conservatively. Not get myself into trouble. And make same putts."
He has been pushed all year by his little brother, who is on the high school team because the Mid Peninsula school has a low-enough enrollment to allow middle school-aged kids to compete. In fact, Christian VanDamme has had the better of the brotherly battle most of the spring, before Big Brother jumped up to take the U.P. Title.
"It's very nice and I feel very honored to be able to play, and everyone has helped me through it," Christian VanDamme said. "Bradly, especially has been pushing me, and we've been back and forth with each other. I surely wanted to beat him, but I was glad to see him get the win."
Eric VanDamme, the school's superintendent and one of the coaches, was thrilled with the whole team, not just his sons.
"All of the kids, I'm really proud of them," he said. "They've worked so hard this year. Like in basketball, having gym rats, they're at the golf course non-stop, and it's been great to watch them compete with each other. It just proves that it's not necessarily the size of the school, it's the heart of the athlete. We've got some really great kids at Mid Pen who work really hard."
Eric VanDamme also praised Englund, who played his final Mid Pen golf meet and nearly pulled off the U.P. Title.
"He took up golf probably a little later than my kids, and he has so dramatically improved the last couple of years," he said. "This is his second consecutive runner-up at U.P. Finals. I feel bad that he didn't get the win because he's worked so hard, but, man, what an honor. Second place two years in a row."
Team-wise, Mid Peninsula took first with 324 strokes, which was 13 clear of second place Ontonagon's 337. Cedarville-DeTour was third, another 13 strokes back at 350.
Individually, North Central's Alex Pipkorn finished third behind VanDamme and Englund, shooting an 80. Ontonagon's Abi Pestka got a share of third place, also shooting an 80. Engadine's Ethan Edwards and Ontonagon's Jerry Majuein both shot 81's to get a tie for fifth place with Christian VanDamme.