GOOD WEEKEND: Eskymos Top Braves, Emeralds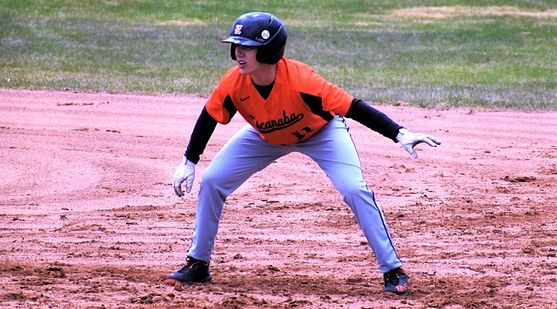 Click the thumbnails to see photos and videos and to hear post-game comments

GLADSTONE---The Escanaba High School baseball team won a pair of games this weekend, beating the Manistique Emeralds, 15-0, Friday night, and then coming from behind to beat the Gladstone Braves, 9-5, Saturday afternoon.
The Eskymos had big innings in both wins, putting five and six runs on the board in the win over Manistique, and then rallying for seven runs in the fifth inning on Saturday.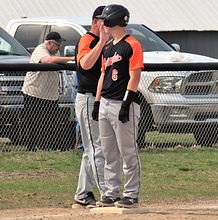 Escanaba has now won three straight games after suffering a disappointing loss in Marquette.
"Whether the (Great Northern) conference is important or not, we're still in the mix today," said Eskymo Manager Scott Hanson, who has emphasized building for the districts more than the GNC title. "To beat Gladstone here today puts us in the mix."
"At this point, it's good to play for something, because I think that helps us prepare for the districts. Competing Tuesday against Kingsford is going to be a big game for us. I think we've turned the corner. They're having fun, they're making plays. Hopefully, we can keep some momentum going this week."
"We needed to clean up our defense for sure, and just putting the ball in play," Eskymo second baseman Eli Gardner said. "I think we did that well. We're hitting the ball hard and playing good defense."
For Gladstone, Saturday's game was disappointing after taking a 3-1 lead into the final three innings.
"Three innings, we played pretty well," Gladstone Coach Joe Darmogray said. "But you're not going to win a game by beating yourself. That's all it boils down to. We beat ourselves. If they all look at the videos, they'll say why did they do those stupid things? We told them out there (in the post-game huddle): you gotta find it fellas. Somebody's got to step up. These are big games. It's what we're going to see when we get to districts."
And Darmogray was just getting started.
"Besides the errors (six of them), we had mental errors running the bases today," Darmogray said. "Somebody's got to step up. It wasn't pretty."
From Escanaba's point of view, though, the weekend was pretty. And Matt Kaven was the hitting star of both Eskymo wins this weekend, nearly hitting a grand slam home run in Manistique on Friday, and then getting the huge two-run double with two out and two strikes on Saturday as the Eskymos rallied for seven runs after falling behind, 3-1.
Saturday's game was the third match-up between the Eskymos and Braves, and Gladstone won the first two meetings. This one also looked like it might go to the Braves as Eskymo ace Bon LaChance was erratic on the mound. He hit four batters, walked five others, and uncorked four wild pitches.
One of LaChance's walks was to Braden Sundquist with the bases loaded in the third inning, and then Gavin Frossard lifted a sacrifice fly to center field. A Noah Peterson groundout after the Eskymos had miscommunication on a pop fly had the Braves leading, 3-1, after four innings of play.
But then came the fifth inning, and it was a nightmare for Gladstone, as the Eskymos sent 13 batters to the plate and scored seven runs off starting pitcher Brennon Detiege.
The clutch hit came off the bat of Kaven, who batted with the bases loaded and two out. He fouled off several pitches before finding one he liked. Kaven ripped it up the right-center field gap, bringing home two runs and tying the game at 3-3.
"I've been struggling hitting off Detiege, especially." Kaven said. "I was looking at Rod (home plate umpire Rahoi) strike zone, and he was calling it pretty tight. So I knew what I was looking for, especially with the bases loaded and two out. I was just looking for something down the middle. A lot of his pitches just move, even his fastballs move because he's a lefty. He's tough to get on, but I think it was his curve and it was just down the middle. I knew I had to do something with it, otherwise I was out of there and we weren't getting any runs. So, I did something with it and put it in the gap."
"An unbelievable at-bat," Hanson said. "Honestly, the two swings he took before the one he hit in the gap were not the greatest. He fouled them off, kind of fought off balls to the right side. But, man, what a huge, clutch hit for him. Last time playing Gladstone in high school ball. He had the key hit that got us going in that inning."
The next batter, Nick Chiu, hit one that was misplayed by first baseman Aedan Creten. Two runs scored on the error and Escanaba had a 5-3 lead.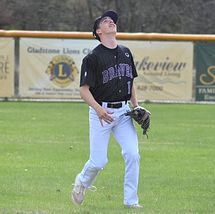 Next, Kaiden Brown hit a bouncer on the infield for a single, and on the play, another error for Creten at first and it was 6-3. Cloutier followed with a line drive to center field, bringing home two runs and giving Escanaba an 8-3 lead. All of that happened after two outs were recorded.
The Braves got two runs back in the fifth inning on walks, wild pitches, an error at first base, and a pop fly by Casey Alworden that nobody caught. LaChance reached his pitch count, and Gardner came in to throw. He got the last two outs of the inning with the tying run at the plate, and then pitched a 1-2-3 seventh inning to earn the save.
Cloutier ended up getting reaching base four times on three hits and a walk, and he stopped several pitches that would otherwise have been wild pitches (besides the four that LaChance actually threw). He also threw out another man trying to steal.
"He (LaChance) got a little wild there for a little bit, but he zoned it back in and started throwing some strikes," Cloutier said. "It's tough to judge sometimes, but you've got to sacrifice yourself back there, basically, and stop everything for the team."
"He's a great catcher, and he's gotten better and better every game, too," Hanson said. "I'm really proud of him. He took the time over the winter, too. He went down to a camp at Central (Michigan University). He showed me that he was committed to doing that."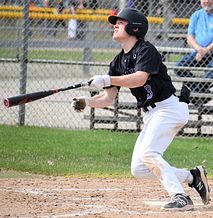 LaChance earned the rocky pitching win, striking out ten in 5 1/3 innings, and allowing only four hits, along with the eight free passes. Detiege took the loss, going 4 2/3 innings, allowing seven runs on six hits. Only three of the runs against him were earned.
"Brennon pitched great," Darmogray said. "I told him, you hung one (to Kaven). It happens. It is what it is. But we didn't need to let up seven runs in that inning, either. They would have had two in, so the game is tied again. But then from there it just spiraled out of control. I don't know what else to say."

"It is what it is now."
ESCANABA 15, MANISTIQUE 0---On Friday, the Eskymos took a 2-0 lead in the first inning on a long shot by Matt Kaven that hit the top of the center field fence, narrowly missing a grand slam home run.
"Some go, some don't," Kaven said. "It looked good off the bat, but it hit the fence, you know. You take what you can get. I got a couple of RBI off the deal, so I can't be too mad."
Then in the third inning, the Eskymos scored two more runs on doubles by Eli Gardner and Trent Lawson, a Bon LaChance sacrfice fly, and a run-scoring groundout by Kaven.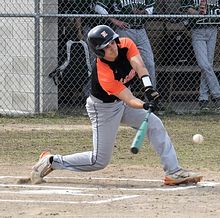 The lead went from 4-0 to 10-0 in the fourth inning as the errors started to pile up for the Emeralds. LaChance had an RBI double and Kaven got his fourth RBI with a single. The Eskymos put the game away with five runs in the fifth inning.
Ben Johnson earned the pitching win, throwing 3 2/3 shutout innings before Trent Turchin tossed the final 1 1/3 innings. Johnson helped his own cause with a two-run single in the fifth inning. He allowed three hits, no walks, and struck out eight batters.
A much better game for Johnson than Wednesday night ion Marquette, when he made three errors at shortstop and went 0-for-4 at the plate.
"Our team had a meeting and we were like, we've got to get our heads in the game," Johnson said. "We've been struggling a little bit, especially with errors on defense. We've fixed that up, and hopefully, we can keep that going. I threw the fastball. I haven't pitched in about a week, but I felt good out here tonight. It was a really nice night. Usually it's raining, cold, and windy, but it was beautiful tonight. I'm so thankful to be out here."
Manistique fell to 7-7 on the season. The Emeralds had three base hits: two singles by Kody Brudvick and one hit by Elmer Zellar. Parker Graphos threw three innings and took the loss on the mound. He was relieved by Isaiah Brow and Dawson Bosanic.