Opportunistic Braves Win 1st Round Over Eskymos
Click the thumbanils to see photos and videos, and to hear post-game comments.

ESCANABA---To be continued.
That was the word after Round One of the Battle of Delta County Friday night between the Escanaba Eskymos and Gladstone Braves. The two teams took advantage of rare good weather to play an extra baseball game Friday night, knowing that there are three more to come in the Great Northern Conference season.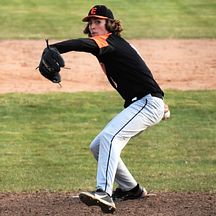 For now, the Braves earned bragging rights with a 4-2 win at Escanaba's Al Ness Field. But both sides know that it's just the appetizer before the main course: a doubleheader next Friday night at the same field, and again on May 13th in Gladstone.
"The more times we play them, I think, that better off," Escanaba Coach Scott Hanson said. "We talk long-term, obviously, Escanaba-Gladstone, a big rivalry, but I'm talking about trying to win a district. When you play a rival like Gladstone, it sets you up for games in a district. We got everything we wanted out of this. I'm happy as heck."
"I appreciate Scott inviting us to come over here to play, otherwise we'd be sitting at home tonight and with no games tomorrow either (games with Calumet already canceled due to the weather forecast)," Gladstone Coach Joe Darmogray said. "We didn't get a lot of hits today. We haven't seen overpowering speed yet. I think that (Escanaba pitchers Bon LaChance and Lenny Peacock kind of shell-shocked the boys a little bit."
But the Braves were opportunistic, scoring two of their four runs on sacrifice flies and the other two on a throwing error after a walk and hit-batter put two men on.
"There was a kid when we played downstate (last weekend in Beaverton) who threw pretty hard, but Bon was probably throwing faster than him," Darmogray said. "And it's always a little nervous playing Escanaba. The season's still early."
While the Braves were opportunistic as the game moved on, they couldn't take advantage of free bases issued in the first two innings, stranding five baserunners without scoring a run. And Escanaba took a 1-0 lead in the first inning when Trent Lawson somehow got down a suicide squeeze bunt on a pitch that was way inside, bringing home Eli Gardner, who had singled, stole second, and went to third on an error.
Gladstone, though, scored three runs without a base hit in the fourth inning to take the lead. Gavin Frossard was hit by a pitch to lead off the inning, after Peacock got ahead in the count but tried to get Frossard on a curve ball that got away.
Then, Peacock walked Noah Peterson to put two men on.
With one out, Nate Young hit a slow roller toward Lawson at third base. Lawson got the ball cleanly, but airmailed it over first base, and two runs came in to score. Then Tyler Darmogray hit a sacrifice fly to center field, making it a 3-1 game,
Braden Sundquist threw the first three innings for the Braves, and when he left the mound in the bottom of the fourth, he was staked to that 3-1 lead. That brought in Brennon Detiege, a left-hander who prides himself on throwing junk balls.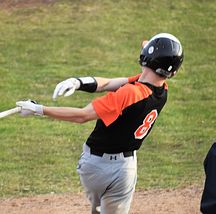 Escanaba got a run on an RBI single by Peacock in the bottom of the fourth inning, but when he tried to steal second base, the Braves guessed right and Detiege threw a pitch-out. Sudquist, now catching, threw to Dramogray at shortstop to get the out at second base.
In the bottom of the fifth inning, Detiege walked the lead-off man (Gardner). He stole both second and third bases, and with two out, LaChance scorched one ticked for left field and a tie game. But Gladstone's third baseman, Frossard, made a full-out dive, catching the ball, robbing LaChance and the Eskymos of that tying run.
"Could he have hit the ball any harder?" Hanson asked. "He (Frossard) made a great play."
"Gavin's been playing well over there and he's been hitting the ball really well," Coach Darmogray said. "I told him, you keep playing the way you are Gavin, your spot is there. He's working hard. I give him 100-percent credit for that."
Then over the final four innings, the Eskymos just could not get a rally going against Detiege. While Sundquist got the pitching victory, the lefty tossed four innings of one-hit ball to earn the save. He only walked one and struck out two.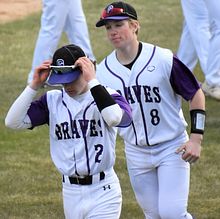 "It feels great," Detiege said. "I can't wait to play them again. I love playing against Escanaba because it's a rivalry, of course, and it's just fun."
So, what was his plan when he came to the mound in relief of Sunddquist?
"Just to throw junk," Detiege said. "That was my plan. I wasn't trying to give them any pitches down the middle. I was just trying to hit the corners, and have fun!"
Mission accomplished, for Round One. The next two rounds are now six days away, with the Eskymos and Braves playing in a doubleheader next Friday at 4:00. Both games will be broadcast live on FM-93.5, AM-600, and on-line at www.rrnsports.com.

Gladstone improved to 4-1 on the season while Escanaba, who's only two previous losses came against St. Croix Falls (Wis.) with an NCAA-Division One-committed pitcher, fell to 8-3.

"We're sitting at 8-3 right now and I'm happy as heck with that," Hanson said. "I think we're in good shape."

Gladstone is scheduled to host Kingsford on Monday, and Escanaba is scheduled to host Marquette at the same time. Those games are in question with nasty weather in the forecast.