Gladstone Braves Grind Past Manistique Emeralds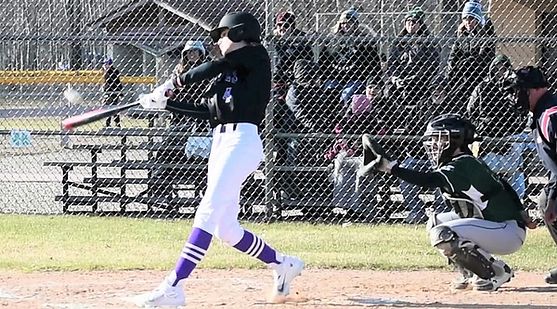 Click the thumbnails for photos, videos, interviews.

GLADSTONE---The Gladstone High School baseball team picked up a 9-3 win over the Manistique Emeralds Wednesday night in an impromptu game that was set up only 44 hours before. The Emeralds came to Don Olsen Field after the Marquette Redmen canceled their trip to Gladstone in order to play Houghton twice at gome.
Marquette lost both of those games, 9-5 and 9-8.
As for the Braves-Emeralds contest, this was a sloppy game that saw both teams substitute freely, and really didn't have any huge hits or dramatic moments. But it was a chance to get on the field under sunny conditions as the spring schedule continues to be hampered by the persistent rain and snow.
Isaiah Brow was on the mound for Manistique for a second straight visit to Delta County. And just like in last Friday's loss to Escanaba, errors behind him hurt him, driving up his pitch count and putting unearned runs on the board for the Braves.
Brow only made it 3 1/3 innings before reaching 75 pitches, and the Emeralds coaches pulled him so he can pitch in a tripleheader this Saturday at Indian River Inland Lakes. Brow was charged with eight runs, and only three of them were earned.
Gladstone used four pitchers, with none of them going over 45 pitchers. And the Braves defense wasn't much better than the Emeralds', as both teams made four errors.
Aeden Creten pitched the first two innings and struck out five, walked two, allowed two hits, and one unearned run. Brennan Detiege went two innings and did not allow a run or hit, struck out two, and walked two. Then it was Gavin Frossard's turn to throw, and he allowed three hits but no walks in 2 2/3 innings of work. He struck out four and both runs against him were unearned. Austin Pepin got the final out after issuing a walk.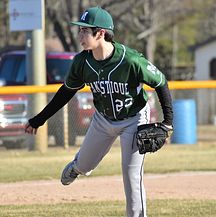 Cooper Curtis, the Manistique pitcher who threw last summer for the state runner-up Escanaba Cubs American Legion team, threw the final 2 2/3 innings after relieving Brow for the Emeralds. He walked three and allowed three hits, and was charged with one run.
Gladstone led 2-1 until the bottom of the third inning, when the Braves effectively put the game away with five runs. Creten had a run-scoring triple, then he came home on a single by Frossard.
Creten, Noah Peterson, and Braden Sundquist all had two hits for the Braves. Manistique got singles from Brow, Mack Pugh, Kody Budvick, Aiden Osterhaut, and Ryan McEvers. But there were no RBI.
The Emeralds fell to 2-3 on the season.
Gladstone improved to 3-1 on the season with their second straight home win.
The schedule continues to be adjusted on the fly, because now the Braves have added a game in Escanaba against the Eskymos Friday night. Escanaba hung on to beat Kingsford on the road Wednesday night, 11-10, to improve to 7-2 on the season. Both of Escanaba's losses came to a talented St. Croix Falls, Wis., team last week.
Friday's game starts at approximately 6:30 at Escanaba's Al Ness Field, with a junior varsity game set for 4:00. The Braves-Eskymos game will be broadcast live on FM-93.5 and AM-600, as well as on-line at www.rrnsports.com.