ONE UP, ONE DOWN: Braves Take Home Opener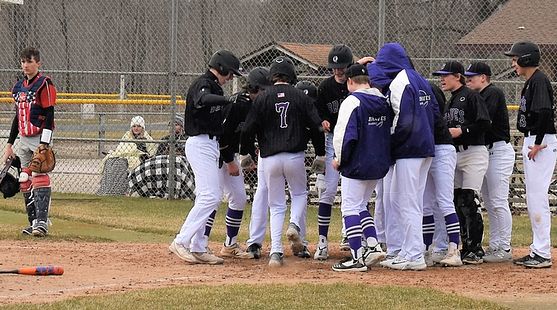 Click the thumbnails to see photos and videos taken by Brad Landis, and to listen to post-game interviewss.

GLADSTONE---The Gladstone High School baseball team won its home opener in "grand" style on Monday as the Braves routed the North Central Jets, 20-0, in a game shortened to three-and-a-half innings by the mercy rule.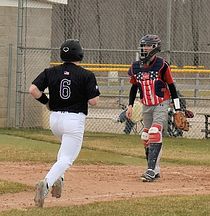 Braves sophomore Gavin Frossard hit his first-ever home run, a grand slam homer in the third inning, to cap off an offensive onslaught against three NCA pitchers. Aeden Creten added a two-run homer earlier in the game, and Tyler Darmogray pitched all four innings to earn the win.
"Our guys weren't ready to play today, plain and simple," NCA Coach Jason Mercier said. "We're already nursing some injuries and everything, but I'm not going to make excuses. There was just not a lot of focus out on the field, and they hit the ball. That's a really good-hitting team. Can't take nothing away from them."
The Braves started things off in the bottom of the first inning when Johnny Soderman smoked a two-run double to the left field fence as snow fell on Don Olsen Field.
In the second inning, Casey Alworden smacked a two-run single to make it 4-0, Braden Sundquist followed with an RBI single, then Creten hit a towering fly ball to right field that kept on flying. The two-run homer had the Braves in front, 7-0, against NCA ace pitcher Adrian Mercier.
"It looked like a routine fly out," Creten said. "But then he (NCA right fielder Jake Poquette) kept backing up, and I was like, oh, I think that's gone! It felt really good, actually, because it was our third game out and it was our first home game, so it feels good. We played great. That's all I can say."
Mercier continued pitching into the third inning, but never retired a batter, and it took a half hour for the Braves to keep batting against relievers Aiydn Burton and Alex Pipkorn. Gladstone scored 13 runs in that third inning, sending 17 batters to the plate before Gladstone Coach Joe Darmogray told Creten to purposely bunt three times to finally end the inning.
Before that happened, though, Frossard highlighted the long inning with the grand slam home run to the left of the Don Olsen Field scoreboard.
"I thought it was a pop-out," Frossard said. "I was kind of jogging to first because I thought it was gonna get caught. I got to first base and Craig over there is like, dude, that's a home run. I was running around the bases kind of in la-la land. I remember seeing it hit the barrel of my bat, and I seen it go straight up, and I was like, crap, another pop out! And here I am, rounding the bases with a grand slam!"
Darmogray struck out seven of the 12 outs he recorded, and did not walk a batter. He allowed three base hits. He also had two hits and drove in three runs at the plate. Five different Braves had two hits apiece: Darmogray (with three RBI), Alworden (with three RBI), Soderman, Noah Peterson, and Brennen Detiege.
"I feel like our team chemistry is a lot better than last year," Creten said. "I feel that we're closer. I think we're going to go far this year. We need to clean up our defense a little bit, besides that, we're doing pretty good. Just an overall good team win."
Jesse Sampson, Andrew Webber, and Adrian Mercier had base hits for the Jets, who fell to 3-3 on the season and will have to regroup quick because they have two big games on Tuesday against the Norway Knights in Hermansville.
Gladstone improved to 2-1 on the season and will host the Manistique Emeralds Wednesday afternoon at 5:00. The Braves were supposed to play the Marquette Redmen, but the Redmen canceled those games and now the Emeralds have agreed to fill in.
Gladstone will then continue its homestand on Saturday with a doubleheader against Calumet, and then next Monday afternoon against the Kingsford Flivvers.