HISTORY IN 'STANG NATION! Munising On Top
Click the thumbnails to see photos and the post-game press conference (courtesy of the MHSAA). Also watch videos of some of the kids interviewing each other.

EAST LANSING---The tears were flowing down the faces of the Munising High School players, coaches, and hundreds of screaming supporters dressed in all orange and black who made up 'Stang Nation inside Michigan State University's Breslin Center.

But these were not tears of sadness. These were tears of joy.
The emotion that has been pent up for generations in Alger County flowed freely Saturday on Michigan high school basketball's biggest stage as the Mustangs did the unthinkable, winning the first MHSAA Division Four state championship in school history with a shocking 39-37 win over Wyoming Tri-Unity Christian.

The Defenders were the defending state champions, and have won five titles under legendary Coach Mark Keeler. But Number Six will have to wait as the Mustangs stifled the Defenders with tough team defense, and Kane Nebel did his usual magic on offense.

"A lot of our games went this way this year," Munising Coach Terry Kienitz said. "We come out fighting and scrapping the whole game. A lot of times we get a good lead and lose it, but we always keep fighting and the next guy makes a big shot. On any given day, any given player can step up and make a big play for us."

And Kienitz says it was his team's play at the other end of the court that ultimately won this game, and set off that tear-filled celebration under the chants of "U.P. Power, U.P. Power, U.P. Power!"

"Holding good teams to 37, holding good teams to 42 points, that's not easy to do," Kienitz said. "These guys have been stepping up to the challenge, sticking to our scouting report, sticking to our plan, and just holding true."

The guy who "stepped up" the most, again, was Nebel. He had 14 points, six rebounds, six assists, and six steals. He played in all 32 minutes of the game.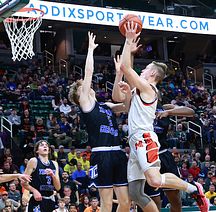 "I'd say it's pretty sweet," Nebel said. "I'm pretty content with the way my basketball career went. To cap it off with a state championship, nothing can mean more."

"They're a really good team," sophomore Carson Kienitz said. "We knew that coming in. Can't be nervous. Just had to make good plays."

A Hayden Rockhill triple on the final play of the first quarter gave the Mustangs a 9-8 lead, and then Nebel helped his team build a 16-10 lead with a three-point basket, a steal at the other end, followed by a lay-up. It was a 18-15 Munising lead at halftime.

Trevor Nolan knocked down a three-pointer early in the third quarter to open up a 21-15 lead, and the lead was 27-23 entering the fourth quarter.

Tri-Unity went on a run in the fourth quarter, with Jordan VanKloopenberg nailing a triple, and Roy Fogg turned a Mustang turnover into a lay-up. All of a sudden, the Defenders had a 30-29 lead, and the clock was ticking down toward two minutes to play.

Enter: Cully Trzeciak, the only other senior on the team besides Nebel. Nebel went around a screen, and dished it to Trzeciak, who buried the triple with 2:11 left in the game. It was his only basket of the contest, but it gave Munising a 32-30 lead.

"On Thursday (in the state semifinal), I was kind of in a slump and missed a lot," Trzeciak said of his only 3-point attempt in this game. "But shooters shoot. You've got to keep shooting, and it felt good."
Nolan then stole a bad inbounds pass and went in for an uncontested layup with 2:02 left to make it a 34-30 Munising lead.

Nebel then made a free throw with 1:07 remaining to give the Mustangs a five-point lead. Munising led, 39-32 after Carson Kienitz and Nebel hit four free throws in a row (after some good defense, again).

Seven point lead with 18.6 seconds left. Game over, right? Not so fast. Anything 70 years in the making is not going to come easily.

Nolan fouled Owen Rosendall while shooting a three-pointer, and the junior put down all three of the shots to bring Tri-Unity to within 39-35 with 13.6 seconds left.

Then Nebel, normally reliable at the foul line, missed two free throws that would have sealed it with 12 seconds left. The Defenders got a basket from Fogg with two seconds left, but the Mustangs dribbled out the clock without being fouled, and 'Stang Nation danced into the history books with a 39-37 win.

Jack Dusseault had eight points and six rebounds, and Nolan contributed seven points. VanKlompenberg scored 15 points and Fogg added 11 for Tri-unity Christian (22-7).

"Obviously, the team we played is very talented," Nolan said. "We just had to win what Coach Prunick (assistant coach Chris) calls the 'no talent' categories. That's just: dive for loose balls, getting rebounds, and we just had to win that. It's never been done in Munising. It was great to do for the whole town."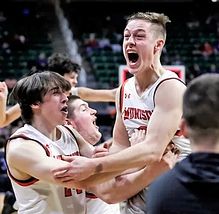 The Mustangs won despite being badly outrebounded, 39-17. But the Munising defense forced 15 turnovers, and the Mustangs committed only six personal fouls all game.

"I was disappointed in our offense," said Keeler, Tri-Unity's coach. "I felt we showed a lot of impatience and a lot of bad shots. But I don't want to take anything away from Munising. They had a great team and they played great defense."

Munising did not come home after the game as had been planned. A winter storm was moving across Lake Michigan toward the northern lower peninsula, dumping heavy snow on the region.

The Mustangs took no chances of driving in those dangerous conditions, so they went back to their hotel in suburban Okemos and stayed another night.

There will be no community celebration for the Mustangs right away because most of the kids are heading off to Spring Break. A celebration is planned for some time the week of April 3rd. And what a celebration it will be.

"It feels unreal," Carson Kienitz said. "It's always been my dream to just come to the Breslin Center. To win a state championship? It hasn't sunk in yet."

What will Nebel miss most about Munising basketball, as he heads off to college?

"The fans," Nebel said. "Our entire community and fan base behind us, behind our bench today. It meant the world to me, and I'm going to miss it forever."