STILL DANCING! Nebel Carries Mustangs To Win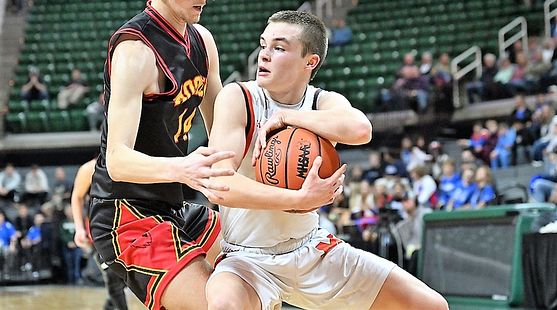 Click the thumbnails to see photos courtesy of the MHSAA, and to hear post-game comments from senior Kane Nebel.

EAST LANSING---When the going got tough, Kane Nebel got going.

The Munising High School senior single-handedly changed the momentum of Thursday night's Division Four state semifinal basketball game against Marine City Cardinal Mooney at just the right time.

The Mustangs had their 14-point lead trimmed to two late in the third quarter before Nebel stepped up to score 12 consecutive points to help Munising advance to the state championship game with a 55-44 win.
It will be the first state final in school history for Munising when the Mustangs face Wyoming Tri-Unity Christian, which will be in its third straight championship game.

Nebel scored 21 points to lead the Mustangs in scoring, but the 12 straight points over a five-minute stretch late in the third and early in the fourth quarters were the deciding factor.

The backbreakers were back-to-back three-pointers that helped the Mustangs regain a ten-point lead at 45-35. From there, Munising played "keep-away" and made enough free throws down the stretch to take this dream season to the ultimate final.

"That's the goal, is to be a three-level scorer if you can," Nebel said. "Getting to the bucket and getting down range is what makes people toughest to guard. Fourth quarters are where good players are supposed to step up and come to the ball. I just wasn't there in the first half and kind of went into 'ghost mode'. I knew I had to be there for my team."
"We certainly thought the momentum in the basketball game had shifted to our favor," Cardinal Mooney head coach Mike McAndrews said. "We made a run, cut it to two, made some plays and we were digging in defensively. Credit to their kids. They made some really tough baskets in order to sustain our run. We could never get back to that two, three, four-point mark again."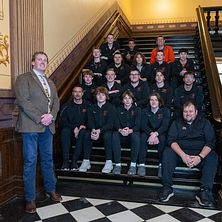 The Mustangs led, 15-11, after the first quarter, and took advantage of the Cardinals' Trent Rice getting into foul trouble. He sat with three fouls, and Munising outscored Cardinal Mooney, 12-2, to go into halftime with a 27-13 lead.

Rice and the Cardinals turned the game around in the third quarter, outscoring the Mustangs, 18-6, to close to within 33-31, with 1:29 left in the third quarter. That was the closest the downstate team would get as Nebel refused to let his team fall behind.

Early on, sophomore Carson Kienitz got his team off to a good start with two triples and nine total points. He ended up scoring 12 points.

And fellow sophomore Trevor Nolan got hot in the second quarter with two triples of his own. He finished with 11 points, and also added a team-high seven rebounds. Jack Dusseault had five points and six rebounds.

Rice ended up with 19 points on 8-of-16 shooting, but he fouled out midway through the fourth quarter. Dominic Cattivera had a game-high ten rebounds for the Cardinals, who finish their season with a 16-12 record.

Munising improved to 26-1 as the best season in school history continues, even one step past the great 1954 team that Nebel's grandfather, Chuck, was a member of. That team was the last Munising team to make the Final Four. Until Thursday night.

The Mustangs face their biggest-ever challenge Saturday morning against the Defenders, who are seemingly in the state finals every year. Tri-Unity (22-6) beat Frankfort, 54-37, in Thursday night's second semifinal game.

Game time is 10:00. Listen on FM-93.5 and AM-600 in Escanaba, FM-99.5 and AM-1320 in Marquette, FM-98.5 and AM-1490 in Manistique, and AM-1450 in Iron Mountain. The game will also be broadcast on-line at www.rrnsports.com.