IT'S NOT A DREAM! Mustangs Dancing To Lansing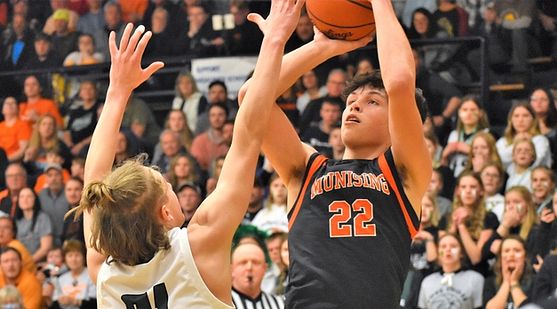 Click the thumbnails to see photos, videos, and to hear interveiws.

NEGAUNEE---If this is a dream, they don't want the wake-up call any time soon.

The Munising High School boys basketball team is headed to the state semifinals for the first time after winning a heavyweight quarterfinal battle against the Painesdale-Jeffers Jets, 52-43, Tuesday night at a loud and jam-packed Negaunee Lakeview Memorial Gym.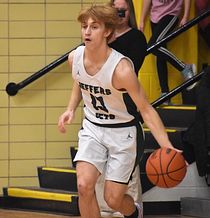 In a battle between two teams that had both lost just once all season, the Mustangs overcame poor free throw shooting by dominating the paint to punch their ticket to the Breslin Center.

And in the end, it all came down to the basics: defense and rebounding.

"That was pretty much what we talked about for the last five days," Munising Coach Terry Kienitz said. "Trying to keep these guys in front of us. Keeping them from getting to the rim. But at the same time, we were tying to run them off the three-point line."

"They've got five guards out there who take it to the rim, knock it out, and let their friend hit a three-point shot. So, that was what we focused on. That's what we stressed for the last five days."

The Jets routinely put up 70, 80, even 90 points per game this season in which they won 25 of their 26 games, with the only loss coming to Division Two Escanaba, on the road. But the three-pointers weren't falling, especially in the second half, when Munising made its run.

Munising wasn't lighting it up, either, in the first half. They got their inside game going with sophomore center Jack Dusseault, but he couldn't make a free throw, and the Mustangs went into halftime trailing, 22-20. As a team, Munising was 3-of-11 from the foul line.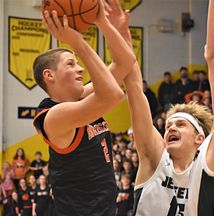 "We're a really good offensive team," Munising senior Kane Nebel said. "Shots weren't falling in the first half. Twenty points. That's unlike us. So, in the halftime speech, we said, we're only down two points. This is something that we've managed before, and we got it done."

Nebel was clearly the best player on the court, as the Jets tried desperately to slow him down. They were able to keep him contained as far as scoring goes, but Nebel dished three assists into Dusseault for big baskets in the second half as Jeffers kept missing triples.

"We really planned on boxing out hard with my height," Dusseault said. "That really helped. It's amazing. We've been dreaming of this. This has been our goal since Game One. This is amazing."

Dusseault had 17 points and pulled down 14 rebounds for the Mustangs. Fellow big man Carson Kienitz was also key inside whenever Jeffers made a run with outside shooting.

"They're really good shooters, so we knew we had to close out hard, but they can also drive to the lane," Carson Keinitz said of the defensive challenge. "They're just a really tough team, and we were able to play really well on defense."


Sophomore Trevor Nolan was held to just one basket all night, after putting up several 20-plus games scoring this season. But he was clutch down the stretch at the free throw line, making six of them in the fourth quarter after missing four foul shots earlier in the game.

"We're a really good free throw shooting team," Coach Kienitz said. "Trevor Nolan. That might be the most misses he's had all season. This crowd, this atmosphere, it probably got to all of them, but it was really nice to see him settle down at the end and knock them down."

In the end, Nolan didn't care about free throw percentages. He was just flying around the Negaunee gym, hugging everyone he could find, and thankful for the experience.

"We rebounded very well, we boxed out very well, and that's the big reason we won today," Nolan said. "We were able to settle in. I'm proud of my team. The hard work paid off. As the game went on, it showed."

The floor leader, Nebel, was the glue that held the team together. Battling through countless injuries the past couple of years, he showed Tuesday night why he was the Skyline Central Conference Player of the Year, and is a shoe-in for All-U.P. Dream Team honors.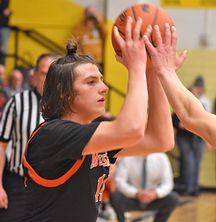 "It can't be better than this," Nebel said. "Going to the Breslin Center after a win like that. We just stuck to our guns. We're going down to the Breslin Center, but nothing's going to beat this gym and the atmosphere here in the U.P."

Nebel led all scorers with 20 points. He missed two straight free throws in the second quarter, and clanked two more in the fourth quarter. But he sank the last five free throws in a row in the final minutes to go along with Nolan's four straight free throws at crunch time.

"It's going back to the same thing," Nebel said. "Whatever rhythm you have, whatever free throw routine you have, it's just going back to that. Just knowing that the next one is going to be good."

Jeffers led, 13-9, after one quarter, and 22-20, at the half. The Mustangs ran a play at the first half buzzer to Kienitz on the baseline to get to within two points, and then methotically pounded the ball inside throughout the third quarter. The only three-point basket that Munising made all night was by Hayden Rockhill. It was one of only three they attempted.

The Jets made five triples, three of them by Ashton Kunishige and two by Matthew Schutz, but they're used to making far more than that on a night-by-night basis.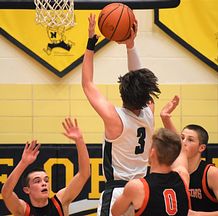 They did make 14 of 20 free throw attempts, including three straight by Schutz when he was fouled while shooting a triple in the fourth quarter. But it still wasn't enough.

Munising outscored Jeffers, 14-8, in the third quarter, to take a 34-30 lead. That proved to be just enough separation for the Mustangs as neither team had a double digit lead all night.

Kunishige scored 17 points and Levi Frahm added 13 for the Jets.

And now, the Mustangs will play on the state's biggest stage: Michigan State University's Breslin Center, Thursday night, against a private school from suburban Detroit: Marine City Cardinal Mooney. The Cardinals are 16-11 on the season after a rough 2-8 campaign in the Detroit Catholic League. They are 8-2 in their last ten games, and 5-0 in the playoffs.

"It's crazy," Carson Kienitz said. "It's been my dream my whole life. I just can't wait."

And for Nebel, who everyoe in Munising knows is a big University of Michigan guy?

"I can't say that I'll enjoy the (Green and White) atmosphere, but I'll love playing there," Nebel said.

Game time is 5:30 on Thursday. The game will be broadcast on FM-93.5/AM-600 in Escanaba, AM-1320 in Marquette, and FM-98.5/AM-1490 in Manistique.