Baraga Girls Advance To State Championship Game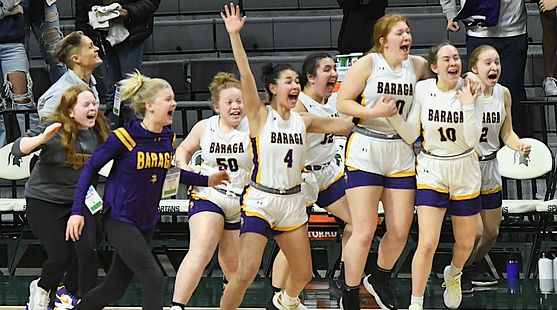 This story and photos courtesy of the MHSAA.

EAST LANSING — At first, Baraga thought its last chance to win its Division 4 Semifinal against Fowler on Thursday had slipped away.

But suddenly it was restored, and Vikings' senior Corina Jahfetson took advantage.
Jahfetson connected on two free throws with 9.9 seconds remaining for what turned out to be the winning points in a 46-44 Baraga victory that advanced the Vikings to their first championship game while avenging last season's six-point Semifinal loss to the Eagles.

Jahfetson's successful shots also ensured there will be a new Division 4 champion, as the Vikings' win ended Fowler's hopes of extending its two-year title reign to three.


"I had to put these in," Jahfetson said of her mindset at that key moment. "I knew this was going to be our last chance to get shots up."

With the game tied 44-44 during the final minute, Baraga tried to hold for a final shot, but was called for an illegal screen to give the ball to Fowler with 9.9 seconds left.

After a timeout, Fowler tried to get the ball inbounds but was called for an offensive foul as players tried to get open.

Jahfetson then went to the line and did what Baraga hadn't during the rest of the final 2:30 — make consecutive free throws — to give her team the lead. Up until that point, Baraga had gone 5-of-11 from the line over that closing span.

Following the free throws, Fowler (20-7) had one last chance to win, but a long 3-point attempt missed the rim and fell out of bounds as time expired.

"Incredible game against an incredible program," Baraga head coach Tyler Larson said. "That's the standard that has been set in this division. We had 364 days since we played them, if my math is correct. These kids have been putting in countless hours over the past year. Not the best basketball we've played, but it was good enough."


Makenna Hendrickson scored 17 points, Kylie Michaelson had 10 and Jahfetson added nine points to lead Baraga (22-5).

Senior Emma Riley finished a stellar Fowler career by scoring 21 points to lead all scorers.

"It wasn't the prettiest game," Fowler head coach Nathan George said. "I thought we worked hard in the second half and battled. I thought we executed pretty well. But give them credit. Their role players made shots, and they made free throws down the stretch. We just couldn't capitalize.

"I'm proud of the girls. They have worked hard and done so much, especially the seniors. They've done so much for this program the last four years. I can't thank them enough, and they have a lot to be proud of."

Trailing 43-39 with 50.5 seconds left, Fowler cut its deficit to 43-42 with 41.9 seconds remaining after a three-point play by Riley.

Hendrickson was fouled and made a free throw to put the Vikings up 44-42 with 39.6 seconds left, but Fowler then tied the game at 44-44 with 28 seconds remaining on a layup by Taylor Weber.

The reigning champion jumped out to a 15-10 advantage with 5:10 left in the second quarter. But the Vikings held Fowler scoreless for the rest of the second quarter and took a 17-15 lead into halftime.

Fowler appeared to gain some separation late in the third quarter when it scored six straight points to take a 25-19 lead with 1:15 left in that period, but Baraga countered with a 7-0 run to take a 26-25 lead going into the fourth.