Munising Wins First Basketball Regional Since 1954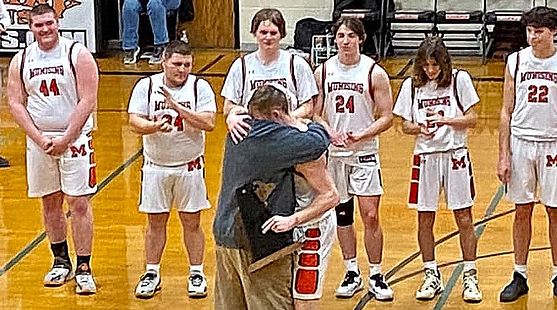 Click the above headline for pictures, courtesy of Munising Public Schools, and post-game comments from Kane Nebel and Carson Kienitz.

NEWBERRY---The curse has been broken.

For the first time since 1954, the Munising High School boys basketball program has won a regional championship. And this time, there was no suspense as the Mustang defense suffocated the Mackinaw City Comets, 60-28, Wednesday night at Newberry High School.

"We came out and played hard," Mustangs sophomore Carson Kienitz said. "We came into the game and made sure we got a lot of rebounds, offense and defense. We pushed the ball up the court and got some quick and easy points. Our press was really good tonight. We got a lot of steals, and that put a lot of points on the board."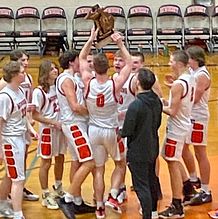 After the game, an emotional moment, as the gradfather of senior Captain Kane Nebel came onto the Newberry High School court.

Chuck Nebel, now 87 years old, was a member of that 1954 Munising Mustangs regional championship team. He was given the MHSAA regional trophy, and he handed it to Kane, and the two shared an emotional embrace at half court.

"Had a really, really cool emotional moment in front of the crowd and they went crazy," Kane Nebel said. "It shows you just how cool sports can be in a small town like ours."

The Mustangs scored the first ten points of the game, led 23-4 after the first quarter, and led, 36-9, at halftime. Munising improves its record to 24-1 on the season.

The Mustangs will play Painesdale-Jeffers in the state quarterfinal next Tuesday night at Escanaba High School. The Jets also made history Wednesday by winning the first regional championship in their school's history. 78-31, over Stephenson, in Negaunee.

The game between the U.P.'s top two Division Four teams between Munising (24-1) and Jeffers (25-1) wil start at 7:00 Tuesday night, with the winner advancing to the state's Final Four at Michigan State University's Breslin Center.