Munising Mustangs Cruise Past Bark River-Harris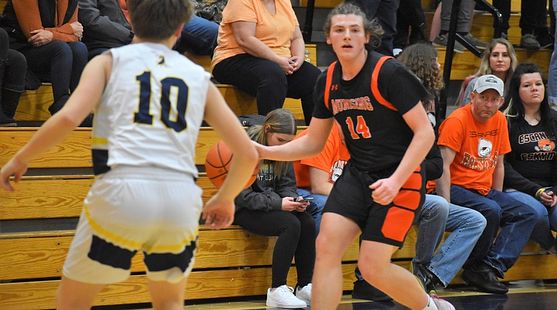 Click the thumbnails to see photos and videos, and to hear post-game comments from Cully Trzechiak and BR-H Coach Justin Bloniarz.

BARK RIVER---The Munising High School boys basketball team owned the paint Tuesday night, beating the Bark River-Harris Broncos, 78-43, in Bark River.

The Mustangs had four players score in double figures, led by Cully Trzeciak's 20 points.


The game was played in the wake of last Friday's tragedy in Escanaba, when the parents of Escanaba High School senior Lukas Weaver were killed in a traffic crash on the way to watching his game in Sault Ste. Marie.

This game saw both teams take part in a moment of silence, with the boys from both teams locking hands at half court as Jim Erickson delivered the National Anthem, with assistance from the BR-H band. The Broncos wore Eskymo Orange and Black pratice shirts, to go along with the Mustang players whose colors are already orange and black.

Once the game got started, the Broncos stayed close in the first quarter, trailing by just three at 15-12 before the Mustangs scored twive to end the quarter with a seven point lead.

The Mustangs put up 22 points in the second quarter, routinely going inside to Trzeciak, qho scored ten first half points, after Carson Kienitz also scored three inside baskets in the opening quarter. Tyler Nelson drained two triples in that second quarter, and Trevor Nolan added a three of his own as Munising built a 41-25 lead at halftime.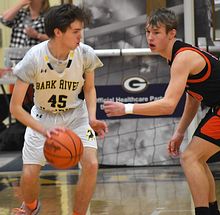 The Broncos hit five triples in the first half, two of them by Jacob Mileski and one each from Ethan Ives, Vinnie Martin, and freshman JV call-up Brayden Derouin.

But the third quarter saw the game go completely south for the Broncos as they scored only four points. The Mustangs scored 21, and that put the game away with a 62-29 Munising lead.

The Mustangs welcomed back their star senior Kane Nebel, who missed the last two weeks with a knee injury. He played well on defense in the first half, and made a couple of strong offensive plays in the second half to finish with ten points.

Trzeciak scored his 20 points on ten two-point baskets, all of them from inside. Hayden Rockhill added 11 points, with one three-pointer but the rest also coming from inside.

Ives led BR-H (3-11) with 12 points, and Vinnie Martin chipped in with ten points. The Broncos travel to North Dickinson (3-10) for a game Friday night in Felch.

Kienitz ended up with 12 points as the Mustangs improved to 14-1 on the season, and they will face the Gladstone Braves (5-7) in Munising Friday night. The game will be broadcast live on FM-93.5, AM-600, and on-line at www.rrnsports.com.