MP Wolverines Play First Home Game Since 2012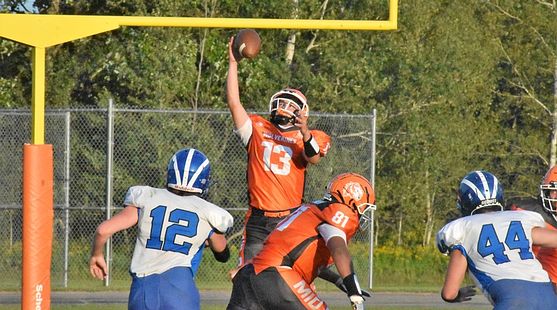 Click the thumnnails to see photos and videos from the game.

PERKINS---The Mid Peninsula Wolverines football team played on its home field for the first time since October of 2012, hosting the Brimley Bays Friday night. The new Mid Pen team trailed just 18-12 in the second quarter before Brimley pulled away to win, 66-18.

A large crowd was on hand for the game, with many Mid Pen alumni joining the students and community members for the first home game (although Mid Pen, as part of a previous co-op with Rapid River, did host a game on this field in Wolverine orange uniforms).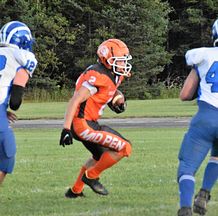 But this was the first Mid Pen home game, and the guys came out jittery, fumbling the ball away on the first play from scrimmage. That led to a Perry LeBlanc touchdown for the Bays, and a 6-0 lead (the Wolverines stopped the two-point play).

The Wolverime offense continued to sputter, plagued by several bad snaps that put the team in bad field position.

The Bays took advantage of a short field after a punt when sophomore quarterback Trey Lynn hooked up with LaBlanc on a 36-yard touchdown pass to make it a 12-0 Bays lead. The Wolverines again snuffed out the two-point play to keep the score at 12-0.

Mid Pen finally found their footing on offense as quarterback Bradly VanDamme threw a 66-yard touchdown pass to the speedy Michael Englund. That would be the first Wolverines points of the season after being shut out last week on the road, and it was the first Mid Peninsula touchdown on this field since 2012.

Brimley, which lost its opener to Newberry last week, 56-0, answered the VanDamme-to-Englund strike with another touchdown pass of its own late in the first quarter. It was another Lynn-to-LeBlanc score, this time on fourth down, from 27 yards out.

Trailing 18-6, the Wolverines came back again, as VanDamme broke off a 51-yard run to the Brimley 11 yard-line. Tristin Syers followed that up with the 11-yard touchdown run, bringing Mid Peninsyula to within 18-12 early in the second quarter,

VanDamme hooked up with Englund for another long touchdown pass later in the game, but Englund was knocked out of the game with an injury and Mid Pen got no closer.

Mid Peninsula fell to 0-2 on the season.