Norway Knights Hope To Make 8-Man Playoff Push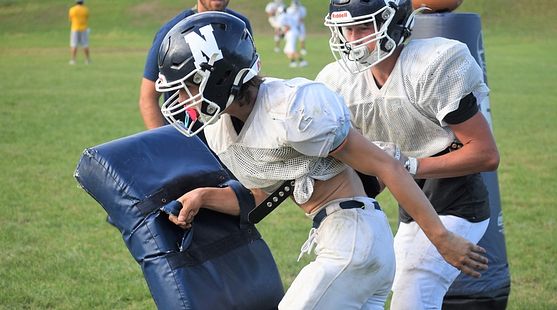 NORWAY---The Norway High School football team will play its second season as an eight-man program this fall, and are looking to return to where they were so many times as an 11-man program: the MHSAA playoffs.

The Knights battled injuries and other issues last year and barely missed the playoffs with a 5-4 record, but the numbers are good this year and the boys are confident that they'll be able to compete with the big dogs in the central and western Upper Peninsula.


"We're looking at changing up our offense a little bit from last year," Norway Coach Scott Popp said. "We've got some pretty good kids across the board this year. Our 'specials' are looking pretty good so we're looking to incorporate them into the mix."

Norway will be led by young quarterback Cole Baij, but senior Michael Peterson is also around to help out as the Knights try to replace the graduated Nolan Amundson, who missed most of last season with a broken hand. The Knights will also be looking to replace Chase Carlson, a bruising running back who also graduated this past spring.

"I think we have a good chance this year," Peterson said. "We just need to work on defense more. On offense, we can always get better at running and passing. Right now, I'm working on running routes, catching balls, and throwing balls."

Senior Blake Dishaw is perhaps the tallest guy on the team, and will be playing on both the line and as an end.

"We've been going hard," Dishaw said. "It's been about getting together, and it's been good so far. I'm just hoping to do what I can, fill in wherever they need me, and make the (Upper Peninsula) All-Star Game."

Senior Isaac Lorenzoni thinks the Knights can make a good run.

"I think we're definitely a team to beat this year," he said. "We can win every game. We have the possibility of winning every game."

Norway has a scrimmage against North Central this Friday, and will open the regular season on Aug. 26 against North Dickinson.