Escanaba 9-10 Boys Come Up Short In West Branch

Click the above thumbnails for photos, videos, and interviews from the game. This story was written and pictures and videos were taken by RRN Intern Braden Kerr

WEST BRANCH--- The Escanaba Minors Little League All-Stars fell just short of the quarterfinal round following a 5-3 loss to Midland Northeast. The winner of the game advanced to the quarterfinal as the second seed in the pool.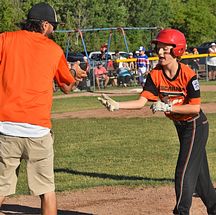 Escanaba and Northeast came into the game with identical records and needing to win to stay alive and advance.

The Escanaba team came in loose and ready to play, "Have fun, we're in a state championship, state tournament. This is something special for these boys," coach Scott Bjorne said. "Have fun and enjoy the moment."

Jayce Braun got the ball for Escanaba and battled until he ran out of pitches in the fifth inning. Vinny DeSalvo-Bougie came on in relief and finished the game.

Northeast got on the board when Sully Lind drove a ball into the right field and made it all the way to third and made it home on a throwing error.

In the third inning Escanaba broke through to take a 3-1 lead. Drew Anderson drew a walk and DeSalvo-Bougie singled to put two runners on. Jayce Braun shot a pitch back up the middle to score both runs and put him on second base.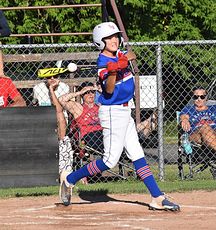 After the big hit Northeast brought in Sully Lind in relief of Jacob Donajkowski. Lind would overpower the Escanaba lineup and shut them out the rest of the game.

Braun stole third and was brought home on a Cameron Jacques groundout.

Northeast answered quickly in the bottom of the inning to retake the lead. The leadoff batter reached on error and the next man reached on an infield single. Bo Blalock singled up the middle to bring in both runs. Blalock scored on a Noah Simmons base hit. Simmons stole second and advanced to third and scored on wild pitches.

That would prove to be all that Northeast would need to secure a victory and their place in the quarterfinal round.

Jayce Braun took the loss for Escanaba allowing five runs, four earned, on five hits wile striking out four and only walking one.

Lind got the win in four inning of relief work allowing no runs on no hits while walking one and striking out nine.

Escanaba's season comes to an end following an incredible run from losing in the pre-districts to Gladstone in extra innings to the state tournament.


When asked about the run Bjorne said, "Attitudes. The never quit never die, they're always fighting. We've gotten some bad raps and some bad shakes and a couple of calls and they just use it as motivation and they've just been battling."

The run started after losing to Gladstone when they came from behind to beat Kingsford and enact their revenge on Gladstone. Then Norway stood between them and the state tournament. Escanaba was able to knock off the favorite in Norway not once, but twice in a row to punch their ticket to West Branch.

Escanaba came up just short in pool play but completed a successful season. Coach Scott Bjorne is confident that his team grow from this experience and be back and better in the coming seasons.

NEGAUNEE 8 vs. BLISSFIELD 4--- The Negaunee Minor Little League All-Stars beat Blissfield on Sunday to secure their spot in the state quarterfinals. Negaunee finished 2-1 in their pool to advance.

Negaunee got runs in every inning except the fourth and six batters drove in at least one run to win the game.

Eli Daavettila led Negaunee with three hits and scored three times. Evan Cardinal collected two hits and drove in a run.

Negaunee will play Taylor in the quarterfinals on Monday at 1 PM ET at West Branch Little League.