Kingsford Blues Sweep Doubleheader In Gladstone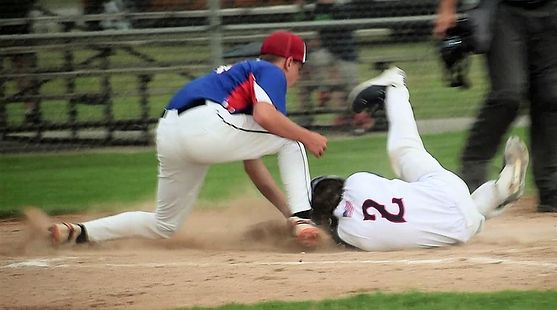 Click the thumbnails to see photos and video highlights from the game

GLADSTONE---The Kingsford Blues American Legion baseball team won twice Wednesday in Gladstone, beating the Junior Indians, 13-0, and then squeaking by in the nightcap, 2-1.

Kingsford pounded out 16 base hits in the game, which was called after four innings due to the mercy rule. Gavin Trevillian had two of them, and drove in five runs altogether.

Gavin Grondin had three hits, while Garrett Brown, Nic Novara, Bryce Adams, and Jack Kriegl all had two hits.


Gladstone had only one base hit (by Cooper Sanville) off of Brown, who threw all four innings and struck out four and walked one. Blake Tanner took the loss, giving up all 13 runs in 3 1/3 innings before running out of pitches due to his 105-pitch count.

The second game was a pitcher's duel between Gladstone's Isaac Ketchum and Kingsford' s Bryce Adams. Ketchum threw all six innings and struck out eleven batters, and was given a 1-0 lead in the first inning when Sanville scored on a wild pitch.

Ketchum allowed only three base hits, but one of them was an RBI singtle by Reed DeGroot in the fourth inning that tied the game.

The Blues scored what turned out the winning run in the fifth inning when Mason Trudeau walked, went to third on a botched pick-off play, and scored on a squeeze bunt by Jack Spreen.

Adams threw all six innings and wasn't spectacular, but was steady, allowing only two base hits and three walks. He struck out three batters. Adams was helped by a double play in the first inning when Blake Tanner hit a fly ball to center field with a runner on third base, and Trudeau came up throwing, getting it to DeGroot for the tag at home plate, keeping it 1-0 at the time.