Final Four Set For Delta County Legion Tournament

Click the thumbnails to see photos from the Escanbaa-EUP and Gladstone-Niagara games. Also listen to post-game comments from the Iron Mountain's Nolan Amundson and Coach Jeff McLean. Also listen to comments from Gladstone's Casey Alworden, Tyler Darmogray, Eli Terrien, and Travis Mack.

ESCANABA---The semifinals are set for the Gregg Johnson American Baseball Memorial Tournament in Delta County.

The Copper Country Flames won two more games on Saturday to finish the round-robin tournament with a 4-0 record and earned the top seed for Sunday's semifinals.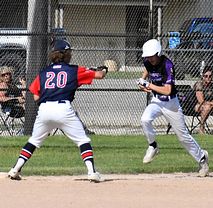 Marinette won its first game on Saturday before losing a nailbiter to Gladstone in the day's final game. Marinette finised 3-1 and ended up with the second seed for the semifinals.

Iron Mountain was beaten by Marinette but rebounded to beat the Eastern U.P. Wood Ducks and finished the tournament with a 3-1 record.

The Golds gave up more runs than any other team in the nine-team field, but won three games, and got the fourth semifinal seed.

The Gladstone Indians trailed Marinette Saturday night by three runs but rallied with two runs in the fifth and two more in the sixth to post a 5-4 win. Gladstone ended up with the third seed for the semifinals.

Gladstone and Marinette will play each other again, Sunday morning, at 10:30 ET/9:30 CT in Gladstone. Iron Mountain and Copper Country will meet at 10:45 ET/9:45 CT on Sunday in Escanaba. The championship game is at 1:30 ET/12:30 CT in Escanaba.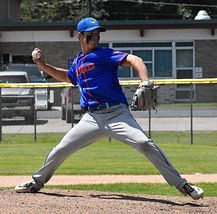 IRON MOUNTAIN 9, EASTERN U.P. 3 (at Bay College)---Nolan Amundson threw 103 pitches over five innings, giving up three runs on three hits and four walks, while striking out seven hits to lead the Golds into the semifinals.

All of the runs given up were in the first inning, as he allowed only one walk and one hit after that. Amundson also went 4-4 at the plate, with 3 singles, a double, and two RBI. All of this came after Amundson played in the Upper Peninsula All-Star basketball game, and then drove from St. Ignace just in time to play this game.

"I came back from the All-Star game and I was a bit tired," Amundson admitted. "As that game went on, my arm felt better. And shout out the East Side (basketball team) a 103-84 Dub. It feels good to get another win. We've got to clean up our defense a bit, but the bats have been hot all year."

ESCANABA 9, EASTERN U.P. 1 (at Al Ness, EscanabaCoac)---The Wood Ducks scored in the first inning when Josh Lumsden singled home Avery Wilson (after the umpire called him out but changed his mind and called him safe). But that was the only run that Cubs pitcher Parker Frappier would allow. He is playing for the first time in three years.

Escanaba scored four runs in the first inning, with Bon LaChance narrowly missing a home run and settling for an RBI double, Jack McEvers singling home two more runs, and Nick Chiu doubling home another run.


GLADSTONE 6, NIAGARA 3 (In Gladstone)---Travis Mack made his Gladstone Indians debut by throwing 5 1/3 innings of ball before giving way to Casey Alworden to get the final two outs.

Niagara pitcher Ryan Erickson threw well, striking out ten batters, but the Indians got two runs off him in the first inning and four more in the fourth inning. Cam Kelly had an RBI single and Tyler Darmogray ad a two-run single for the Indians.

Noah Peterson also added an RBI single during that four-run inning. Erickson laubched a solo home run to left field to account for Niagara's first run, and then two walks, a hit battsmen, and an error by Mack brought in two more runs.

"After a while, fatigue set in," Mack said. "I had two weeks off (since high school districts), and performing like I did two weeks without throwing a baseball, or even touching a ball, for that matter, it really felt good."

"Coach called a meeting at the mound and said, you've got the ball, do your thing" Alworden said. "I'm not much of a pitcher, as you can see. I don't have a lot of velocity. Just keep 'em off-balance with the off-speed. That's all I can do."

GLADSTONE 5, MARINETTE 4---The Indians were behind the entire game before scoring two runs in both the fifth and sixth innings to post the win and advance to the semifinals.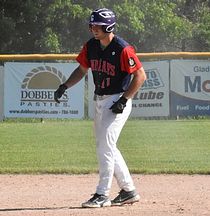 Tyler Darmogray pitched the entire seven innings for the Indians. He allowed three runs in the second inning, with two of them coming on an error and the other on an RBI hit by Ashton Lebrich. He retired 12 of the final 14 batters he faced, and only two of them were on strikeouts.

"We just had to get back in the game, focus on batting, and rip the ball," Darmogray said. "I didn't really have that many strikeouts, but my whole defense was playing great this game. I just knew they were behind me and backing me up."

It came down to the bottom of the sixth inning, when Marinette pitcher Alex Rupert, who threw a strong game in long relief, walked Eli Terrien with one out. Darmogray ripped a base hit, and then the Indians pulled off a double steal to put two men in scoring position.

Cam Kelly smoked a shot toward shortstop that Austin Burnside got to, but could not make a play on. Terrien scored and Darmogray never stopped running from second. He scored as well, making it a 5-4 Indians lead, and Darmogray threw an uneventful seventh inning.

"I told Coach Martin right before that, because we huddled because they called time and went to the mound, that I was putting on the burners," Darmogray said. "No matter where that ball was going, I was going home."

TOURNAMENT STANDINGS
Copper Country 4-0 (10 RA)
Marinette 3-1 (16 RA)
Gladstone 3-1 (26 RA)
Iron Mountain 3-1 (37 RA)
DePere 2-2 (29 RA)
Escanaba 2-2 (21 RA)
Menominee 1-3 (37 RA)
Eastern UP 0-4 (25 RA)
Niagara 0-4 (35 RA)

SUNDAY'S SCHEDULES
Semifinal in Escanaba: Iron Mountain vs Copper Country, 10:45 ET/9:45 CT
Semifinal in Gladstone: Gladstone vs Marinette, 10:30 ET/9:30 CT
Championshup Game in Escanaba, 1:30 ET/12:30 CT

SATURDAY'S RESULTS
DePere 10, Menominee 7
Copper Country 10, DePere 4
Marinette 17, Iron Mountain 5
Escanaba 9, Eastern U.P. 1
Gladstone 6, Niagra 3
Copper Country 7, Escanaba 3
Menominee 8, Niagara 7
Iron Mountain 9, Eastern U.P. 3
Gladstone 5, Marinette 4

FRIDAY'S RESULTS
Iron Mountain 12, Niagara 8
Iron Mountain 13, Gladstone 9
Marinette 11, DePere 5
Marinette 4, Eastern U.P. 1
DePere 3, Eastern U.P. 1
Copper Country 10, Menominee 2
Copper Country 9, Niagara 1
Escanaba 10, Menominee 6

THURSDAY'S RESULTS
Gladstone 7, Escanaba 6