Cougars Slip Past Braves In District Playoff Preview

Click the thumbnails to see photos and videos taken by Brad Landis. Also click the AUDIO buttons to hear post-game comments from Dakota Maki and Hayden Rockhill.

GLADSTONE---The Superior Central High School baseball team picked up a rare win over the Gladstone Braves Wednesday night, hanging on for a 7-5 win under the lights at Don Olsen Field. The two teams will play again in the district semifinals on Friday, June 3rd.

Hayden Rockhill threw five innings of four-hit ball, striking out 12 batters along the way. But the game wasn't over until Rockhill, playing first base in the final inning, caught a John Soderman pop up with the bases loaded to seal the Cougar win.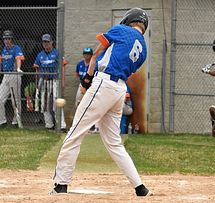 "The energy was very high today," Rockhill said. "The team was just riled up. That kind of got my energy going, and helped me throw. We don't beat them very often. They're a tough team. Usally, my plan is to paint the corners, and throw a change-up or curveball every now and then. The corners is usually where I like to throw it."

Gladstone's defense was purely awful in the game, committing eight errors that led to four unearned runs against starting pitcher Brennon Detiege.

Two of those errors happened in the fourth inning, when the Cougars scored five runs to turn a 4-2 deficit into a 7-4 lead.

Dakota Maki's two-run double brought in the sixth and sevemth Cougar runs.

"When you get behind like that, especially against a team that's always beat us, it can be tough," Maki said. "It's not easy to come back like that. But we had nothing to lose. It's a regular season game, so it doesn't really mean anything. They're not in our conference."

And what about his big hit in that fourth inning?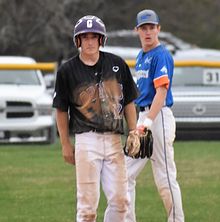 "He (Detiege) was throwing a lot of fastballs and I picked up on that," Maki said. "With two outs, I just need to put one in play with guys in scoring position. I happened to get a lot more of it than I thought I ever could, and somehow, got it over the centerfielder's head."

Gladstone took a 4-2 lead in the third inning when Sundquist hit a line drive single to start the inning and went to third on a double by Cam Kelly.

Caesey Alworden's bunt single scored one run, and Kelly scored on a wild pitch. Sundquist was the only Brave to get two base hits.

Rockhill earned the win, and after he reached his 105-pitch count limit,

Bradly Van Damme, a Mid Peninsula High School student playing as part of the co-op with Munisng and Superior Central, threw the final two innings to earn the save. He walked three batters, and missplayed a pop fly on the infield which gave the Braves their last chance in the final inning.

Detiege took the loss, giving up seven runs (three earned) on six hits. Darmogray and Soderman both threw an inning in relief.

While Gladstone's defense was rough, catcher Nick Martin did throw out two men trying to steal second base.

Gladstone, after a ten-game winning streak, is now on a four-game winless streak (0-3-1). The season record fell to 10-4-1, with a doubleheader set for Thursday in Iron Mountain.

Zach Frusti added two hits and scored three times for Superior Central.