Ballard's Buzzer-Beater Lifts Braves Over Eskymos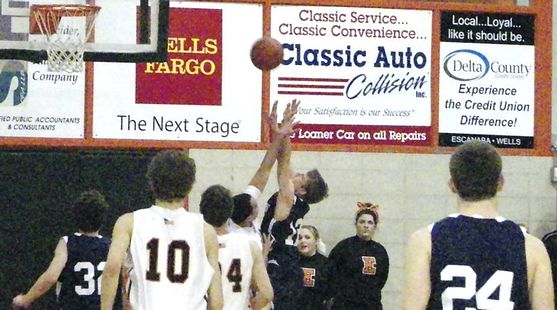 ESCANABA---They've had so many near-misses that they were beginning to think that they were jinxed, and might not ever win another basketball game again.

The Gladstone Braves have played with most of the top teams in the Upper Peninsula this season, but have ended up on the short end of the stick more times than not.

But Friday night in Escanaba, the Braves finally got a break from the gods who look down on high school basketball.

Blake Ballard's leaping rebound and shot off a Jared Vuksan miss as time ran out gave the Braves an emotional 66-65 win over an Escanaba team that left it all on the court. The buzzer-beater capped a game that saw both teams go on offensive spurts, but neither could pull away from the other.

"They did a nice job of mixing up their defenses," Gladstone Coach Phil Griebel said. "They were confusing us, going man, then 1-3-1, then 2-3 (zones). We were trying to get Vucks the ball down in the block there, and he got it, and shot it, and Blake came out of nowhere. He got up there so high, and I was so happy for him. I was like 'please go in, please go in'."

"Our kids played a great game," Escanaba Coach Tracy Hudson said. "Sometimes when you play in a rivalry games, it comes down to one shot. And Gladstone made the play. But I was happy with how our kids battled, and how they took the lead late. Some plays could have gone either way."

Trailing 65-64 with eight seconds to play, the Braves inbounded the ball and moved it around to Vuksan. His shot popped out, but Ballard jumped up, got the ball, and sank the winner, delighting the large Braves student section.

"Vuks had it the end and he missed it, and I just went for the rebound," Ballard said. "It was just luck. It came my way. I had no idea how much time I had left. This was a great win, after the seven losses we've had, especially coming against Esky."

The Braves were in a similiar situation Tuesday night against Marquette, when Vuksan missed a shot at the end and Gladstone lost in overtime. But Griebel says that this time, the play call was a bit different.

"We absolutely needed this one," Griebel said. "When they made their shot and took their lead, I was like 'oh no', here we go again. But Blake came out of nowhere. It was huge."

How did Escanaba see that last play?

"It looked like we tried to cover the perimeter," Hudson said. "They got the shot, and we kind of all helped on the shot. Then somebody (Ballard) came in from the left side, left the ground, and tipped it in. I tried to call time out, but, I guess time had expired, and that was the game."

The game was full of streaks. Escanaba led, 11-6, in the first quarter, when sophomore Ben Kleiman nailed back-to-back three-pointers, and senior Dakota Tryan hit an old-fashioned three-point play. But the Braves went on a 15-2 run as Kyle Kleiman scored two baskets and four other players scored.

But Gladstone's 21-13 lead soon disappeared as the Eskymos went on a 13-0 run, as Tyran scored two straight baskets and Jamie Hiltunen sank a long three-point basket.

Escanaba's 26-21 lead vanished when Gladstone went on a 9-2 run to end the second quarter, with Mike Cretens getting two three-pointers. And that streakiness continued in the second half, as the Braves built a 42-32 lead midway through the third quarter.

Cretens hit two more three's and Cody Frazer attacked the basket for a strong hoop with 4:07 remaining. Then, the Eskymos bounced back again. Ben Kleiman scored five straight points to key a 9-1 Escanaba spurt that brought the young Eskymos back to within 43-41. Then 6-4 sophomore Brandon Robinette sank a long three to start the fourth quarter, putting the Eskymos in front, 47-46.

And it stayed that way, back-and-forth, back-and-forth. Tryan put his team on his back with tough driving layups with 2:15 and 1:03 remaining. With the game tied at 62, Vuksan went inside on Neveau. There was contact, Neveau hit the floor, but nothing was called. Vuksan's wild shot tied it.

The Eskymos came back up court, and Neveau sank a clutch three from the left corner with 28 seconds left in the game. That put Escanaba in front, 65-64, setting up the dramatic end with Ballard's buzzer-beater.

"We've gone through a lot of adversity," Griebel said. "So then you have a choice, you either give up, or you keep fighting. These guys keep fighting. It was nice to finally get rewarded for our hard work."

"We've been struggling a little bit, but I think we're peaking at the right time," Gladstone senior Peyton Jurek said. "We're all starting to play basketball together. It's starting to be fun."

Gladstone was led in scoring by Cretens, who had 19 points, including five three-pointers. Vuksan added 18 points, and Ballard had 13...including the biggest two of the night. Escanaba got a courageous effort out of Tryan, who scored 26 points. Ben Kleiman added 17 points, and a lot of hussle.

"Dakota brought it for 32 minutes," Hudson said. "I couldn't get him or Ben Kleiman much of a break. They both just had to stay in there and battle."

"He (Tryan) had an outstanding game," Griebel said. "We lost him in the middle numerous times. We've got to clean that up. He got loose, and he got hot, he was aggressive and he attacked us. He's a good player."

The Eskymos fell to 4-15 on the season, with a game at L'Anse still to go.
"I just told my kids how proud I am of them," Hudson said. "Gladstone deserved the victory. We're just gonna try to get better this next week."