TOP YOOPERS: All-U.P. Football Picks Announced

MARQUETTE---The Upper Peninsula Sportswriters and Sportscasters announced their All-U.P. football teams Friday evening. A panel of 21 people met for nearly seven hours at the Marquette Holiday Inn on Wednesday to come up with this list.

The Marquette Redmen narrowly edged out the Calumet Copper Kings (on a 12-9 vote) to win the U.P. Large School Team of the Year honors. Westwood was the unanimous pick for the U.P. Small School Team of the Year.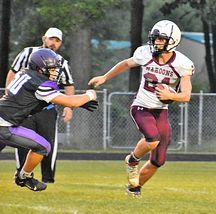 Westwood Coach Scott Syrjala was picked as Coach of The Year, after leading the Patriots to the third round of the playoffs for the first time in school history. He received eleven votes, with Calumet Coach John Croze finishing second with seven and Bark River-Harris Coach Al Stenberg receiving two votes.

The Offensive Player of the Year honors went to Menominee's Aidan Bellisle. He received ten votes, while Westwood's Zach Carlson and Marquette's Austin Ridl each received five. Calumet's Dryden Nelson got one vote.

Gladstone lineman Hunter Potier was a unanimous choice for Defensive Player of the Year. He led the Braves defense with 63 tackles, 15 for loss, plus 13-and-a-half sacks and a pair of forced fumbles. Potier also brought home the Mitchell Snyder Lineman of the Year Award. He had 15 votes, with three going to Westwood's Gavin Dawson and two to Marquette's Alex Schlemm.

There were 25 players picked to the Dream Team (11 offense, 11 defense, three special teams), plus there was a Hybrid Athlete of the Year selected.

Players who did not make the Dream Team then were in the next 25 selections for "First Team All-U.P.". Players who did not make the Dream or First Teams, and had two or more votes, were Special Mention selections. The rest were Honorable Mention.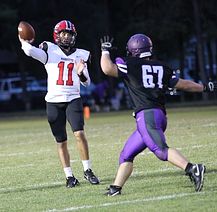 Marquette had six players on the Dream Team. Westwood and Kingsford both had four. Calumet had three, Gladstone and Menominee each had two, and Iron Mountain had one.

Negaunee's Phil Nelson reached the Dream Team on both defense and special teams, the only player to do that.

Sault Ste. Marie, which won six games but still missed the playoffs, had one Dream Teamer: defensive end Callen Campbell. But the Blue Devils also put five players on the First Team.

Gladstone had Potier and Mason Kinnonen as Dream Teamers, and also got defensive tackle Brett Boudreau and linebacker John Hansen on the First Team.

Ishpeming's only nominee, Dawson Delongchamp, was a First Team selection at defensive. Bark River-Harris had three First Team picks: Trevor Lippens (running back), Corbin LaFave and Charlie Guenette (defensive line).

Escanaba, which endured a 1-8 season, had no Dream Team or First Team players, but had three who received Special Mention: center Matt Zimmerman, running back Karson Krutina, and defensive back Ben Johnson. Receiver Trevor Brown got Honrable Mention.

Manistique and St. Ignace were the only 11-man teams that did not have any nominations for the panel to consider.

The Dream Team and First Team winners will receive certificates from the UPSSA.

2021 ALL-U.P. FOOTBALL TEAM
As Picked by the Upper Peninsula Sportswriters and Sportscasters

SMALL SCHOOL TEAM OF YEAR…Westwood
LARGE SCHOOL TEAM OF YEAR…Marquette
COACH OF THE YEAR…Scott Syrjala, Westwood

U.P. DEFENSIVE PLAYER OF YEAR…Hunter Potier, Gladstone
U.P. OFFENSIVE PLAYER OF YEAR…Aidan Bellisle, Menominee
MITCH SNYDER LINEMAN OF YEAR…Hunter Potier, Gladstone

DREAM TEAM OFFENSE
Center…Spencer Harvala, Westwood
Offensive Guard…Gavvin Dawson, Westwood
Offensive Guard…Lucas Maxon, Iron Mountain
Offensive Tackle…Lucas Tappy, Kingsford
Offensive Tackle…Alex Schlemm, Marquette
Quarterback…Austin Ridl, Marquette
Running Back…Aidan Bellisle, Menominee
Running Back…Dryden Nelson, Calumet
Running Back…Zach Carlson, Westwood
Receiver…Owen Beauchamp, Marquette
Receiver…Zach Person, Kingsford

DREAM TEAM DEFENSE
Defensive Tackle…Mason Kinnonen, Gladstone
Defensive Tackle…Wyatt Kuhlman, Marquette
Defensive Tackle…Lenny Bjorn, Calumet
Defensive End…Hunter Potier, Gladstone
Defensive End…Callen Campbell, Sault Ste. Marie
Linebacker…Dustin Lohfink, Marquette
Linebacker…Alan Bjorn, Calumet
Linebacker…Luke Olson, Westwood
Defensive Back…Phil Nelson, Negaunee
Defensive Back…Desmond Mullen, Marquette
Defensive Back…Brody Kopp, Kingsford

DREAM TEAM SPECIAL TEAMS
Kicker…Diego Przeslakowski, Kingsford
Punter…Kaeden Calcari, Menominee
Returner…Phil Nelson, Negaunee

FIRST TEAM OFFENSE
Center…Chris Ricker, Marquette
Guard…Brett Boudreau, Gladstone
Guard…Adam Horrigan, Sault Ste. Marie
Tackle…John Burke, Sault Ste. Marie
Tackle…Bode Bonovetz, Negaunee
Quarterback…Jakob Davie, Sault Ste. Marie
Running Back…Trevor Lippens, Bark River-Harris
Running Back…Toby Wilcox, Kingsford
Running Back…Easton Palomaki, Negaunee
Receiver…David Eberhard, Marquette
Receiver…Gaborick Carlson, Houghton

FIRST TEAM DEFENSE
Defensive Tackle…Chance Bridgers, Hancock
Defensive Tackle…Joe Gimbel, Menominee
Defensive Tackle…Levi Florucci, Kingsford
Defensive End…Corbin LaFave, Bark River-Harris
Defensive End…Charlie Guenette, Bark River-Harris
Linebacker…John Hansen, Gladstone
Linebacker…Dawson Delongchamp, Ishpeming
Linebacker…Eli Van Buren, Negaunee
Defensive Back…John Robinson, Sault Ste. Marie
Defensive Back…Marcus Boase, Westwood
Defensive Back…Luke Wolfe, Iron Mountain

FIRST TEAM SPECIAL TEAMS
Kicker…Cole Hawker, Sault Ste. Marie
Punter…Hunter Stanaway, L'Anse
Returner…Nic Nora, Kingsford

SPECIAL MENTION OFFENSIVE PLAYERS (Two or more votes)
Center…Matt Zimmerman, Escanaba
Tackle…Kade Lesperance, Menominee
Tackle…Victavian Hanson, Westwood
Quarterback…Gerald Johnson, Negaunee
Running Back…Karson Krutina, Escanaba
Running Back…Cole Potier, Gladstone
Running Back…Dysean Allen, L'Anse
Receiver…Brayden Lee, L'Anse
Receiver…Justin Jurmu, Marquette
Kicker…Tom Erkkila, Calumet

SPECIAL MENTION DEFENSIVE PLAYERS (Two or more votes)
Linebacker…JR Tryan, Menominee
Linebacker…Hunter Fortner, Iron Mountain
Defensive Back…Ben Johnson, Escanaba
Defensive Back…Eli Berthaume, Gladstone
Defensive Back…Joe Javurek, Bark River-Harris

HONORABLE MENTION OFFENSIVE PLAYERS
Center…Cliff Jurmu, Calumet
Guard…Gideon Bell, Marquette
Tackle…Eli Ostermeyer, L'Anse
Quarterback…Nate Young, Gladstone
Quarterback…Mike Meneguzzo, Kingsford
Quarterback…Zach Beckman, Westwood
Running Back…Noah Gagne, Bark River-Harris
Running Back…Ryan LaPlant, Sault Ste. Marie
Receiver…Cooper Conway, Menominee
Receiver…Trevor Brown, Escanaba

HONORABLE MENTION DEFENSIVE PLAYERS
Tackle…Austin Mosier, Bark River-Harris
Linebacker…Carl Peterson, Gwinn
Defensive Back…Braydon Lee, L'Anse